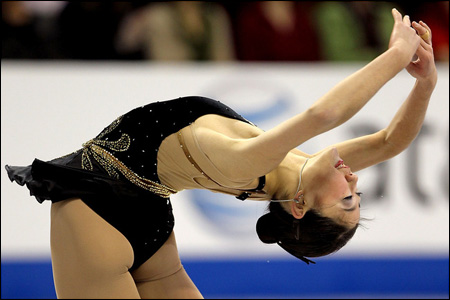 Props to 16-year-old figure skater Mirai Nagasu, who kicked some ass on the ice at the U.S. Figure Skating Championships, coming in second and earning herself a trip to the Vancouver Olympics:
Rachel Flatt, Mirai Nagasu are headed to Olympics after 1-2 finish at U.S. Figure Skating Championships
.
Few actually Nagasu to nab a medal in Vancouver. Let's not count her out. But at least she can look forward to lots of perks and free Olympic schwag:
Free-spirit figure skater Mirai Nagasu fired up for Olympics free stuff
.
This isn't exactly a secret... but guess what? Figure skating is latest sport in which in Asians are dominating. Including Nagasu, eight of the 23 women who competed this weekend in the long program at the United States Figure Skating Championships were Asian Americans.
Internationally, the reigning women's Olympic champion, Shizuka Arakawa, is Japanese. Asian women have won seven of the nine medals at the last three world championships. And Kim Yu-na of South Korea is heavily favored to win the women's gold medal next month at the Vancouver Games.
How did they do it? A steady diet of rice, fish and vegetables? Extreme Asian Discipline? This
New York Times
article attempts to explain why skaters of Asian descent have risen to prominence in large numbers both national and internationally:
Figure Skaters of Asian Descent Have Risen to Prominence
.