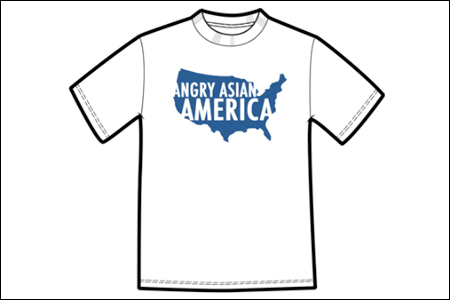 Check out
Blacklava's
fancy new website, filled with all sorts of awesome Asian American-empowerment apparel. Wasn't sure if the re-launch was going to happen this week or next week, but it looks like the new site is up and running now. And now, you've got a chance to get in on the
Daily Deal
-- a featured product available at a discounted price for a limited time only.
I'm proud to share a new shirt design,
Angry Asian America
, featured right now as the Daily Deal. I've had the idea for this shirt for a while. It primarily comes out of the dreaded "Where are you from?" question all Asians in America seem to have to deal with at one point or another. You know -- "No, where are you
really
from?" This is sort of a snarky answer back to that annoying inquiry.
With apologies to my Canadian readers, I hope folks can wear this and get an interesting conversation started. It's on sale today (Monday, January 15, 2010) at the discounted price of $15.00. Get it
here
. And check out this
"One Hot Minute"
video I shot briefly explaining the shirt.