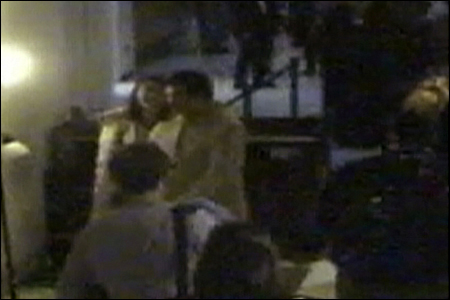 The man believed to have
breached security
to say goodbye to his girlfriend, triggering a shutdown of Newark Airport last week, has been arrested in New Jersey and faces a trespassing charge and fine of up to $500:
Man arrested in Newark airport security breach
.
According to the Port Authority of New York and New Jersey, 28-year-old Haisong Jiang was taken into custody Friday at this home in Piscataway. He was questioned at the airport by the police, charged with defiant trespass -- not a federal charge -- and released shortly after midnight.
Jiang, who is from China, is a doctoral student in a joint molecular biosciences program at Rutgers University. He was apparently at the airport sending off his girlfriend, who lives in Los Angeles and was visiting for the holidays. I guess he had a few things to learn about airport security.
He is due to appear in Newark municipal court next week. I'm betting the guy did not realize the kind trouble he'd be in for wanting just a little more time with his lady. More here:
riends: Suspect meant no harm at Newark airport
.