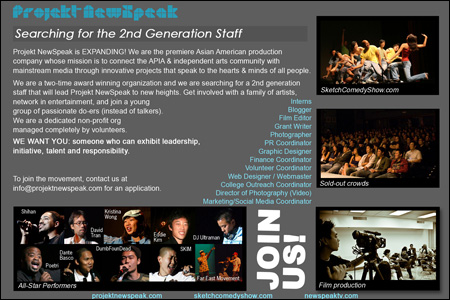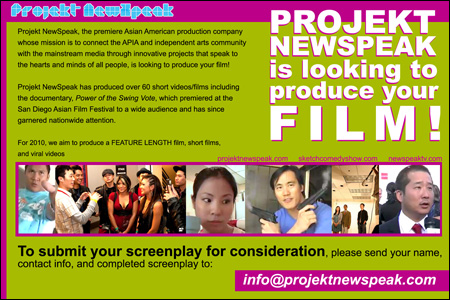 I recently joined the board of
Project NewSpeak
, an Asian American production company with some pretty big ideas. They've got a lot of energy and some really exciting things going on this year. I'm pleased to be a part of its vision.
The goal: "to break and change stereotypes and images of Asian Americans in the mainstream media through the development, organization and promotion of innovative and thought-provoking art that speaks to the minds and hearts of all people." But in order to do this, they need your help.
Projekt NewSpeak is looking a second generation staff to take charge of the organization. Do you want to work in production, filmmaking, event planning? Do you want to work with positive people that want to change the image and stereotypes of Asian Americans in Hollywood? Then join Projekt Newspeak. Take a look at the flyer above for more info. To apply, please contact: info@projektnewspeak.com
They are also actively looking for material to produce. If you have a compelling story/screenplay (any genre: drama, comedy, action, etc.), and are interesting in getting it produced by NewSpeak, submit your finished work to info@projektnewspeak.com by February 15. And for more information, visit the Projekt NewSpeak website
here
.