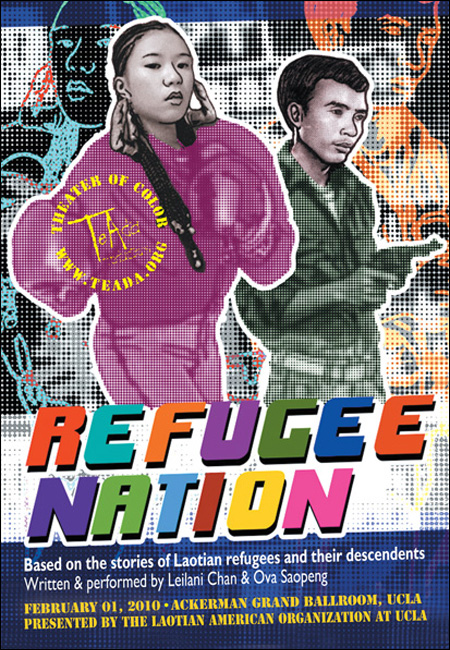 If you're in the Los Angeles area, the Laotian American Organization at UCLA invites you to a special event,
Refugee Nation
, written and performed by Leilani Chan and Ova Saopeng, based on the stories of Laotian refugee and their descendants. It's next Monday, February 1 in the Ackerman Grand Ballroom at UCLA. Here's the info:
The Laotian American Organization at UCLA proudly presents

REFUGEE NATION

Written and performed by Leilani Chan and Ova Saopeng
Based on the stories of Laotian refugees and their descendants.

Monday, February 1, 2010
7:30-10:00 PM
(Doors open at 7:00 PM)
Ackerman Grand Ballroom
2nd Floor, Ackerman Union
UCLA Campus

A mother lives in the darkness of a South Los Angeles apartment. An Army General struggles to forget a lost war. A son battles in the streets of urban America. Refugee Nation is about a young generation struggling to understand their history and the silence of an elder generation still healing from the traumas of the U.S. waged Secret War in Laos during the Vietnam War era.

More than just a telling of Laotian American history, the two-person performance eloquently touches upon crucial issues relating to the refugee experience, assimilation, generation gap, and mental health by interweaving drama, film, music, and audience interaction. The result is a product that not only brings to light the hidden stories of Laotian Americans around the U.S., but one that is able to unite people from all types of backgrounds, ethnicities, and histories by relaying the ideas of change, loss, struggle, healing, and the unrelenting strength of the human spirit.

As we welcome a new decade, the Refugee Nation continues to grow. With the certainty of new refugee arrivals coming from the Middle East, what can we learn from the wounds of a war 30 years ago that are still yet to be healed?

The event is free and open to the public. The show will run for 60 minutes and will be followed by a 30-minute Question and Answer session with the artists.
This sounds like a really fantastic event. The show has toured everywhere from New York to Alaska, but this will actually be the show's first performance in its hometown of Los Angeles. And best of all, the show is absolutely
free
.
For more information about the event (including parking details), go to the Facebook event page
here
. For more information on
Refugee Nation
, visit their website
here
.