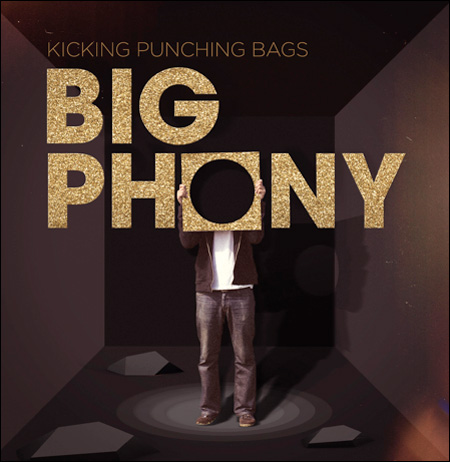 Kicking Punching Bags
, the new album from
Big Phony
, officially drops today. I've actually had a copy for a couple of months, and I love it. I guess you could describe it as sensitive-guy-with-guitar kind of stuff, with heavy Elliot Smith influences. This is really great record, and I highly recommend checking it out. Here's some info about the new album, in his own words:
"Kicking Punching Bags" was produced by Jason Hiller at Walden Recordings in Beverly Hills, CA. We started recording back in December of 2008 and it took us just a few months to track the album, so we've been waiting quite some time to get this out there. I'd say it's a pretty nice and laid back piece of work. For all of the songs we only laid down a few takes and used no click tracks. Personally I think it made the album sound more natural and less cookie cutter or contrived. Downside is, it makes it harder to add techno beats for Big Phony dance remixes. Oh well, hope you guys enjoy it!
You can listen to some of the tracks at Big Phony's MySpace page
here
. Not only is the album great, but having gotten to know Big Phony, aka Bobby Choy, he's a pretty cool guy, and I'd love to see more people get tuned into his music.
There's an album release party next month, February 11, at Hotel Cafe in Los Angeles, but rumor has it, it's already completely sold out (a limited number of tickets may be available at the door). You can download
Kicking Punching Bags
from
iTunes
or get it from the
Big Phony Store
. And spread the word!