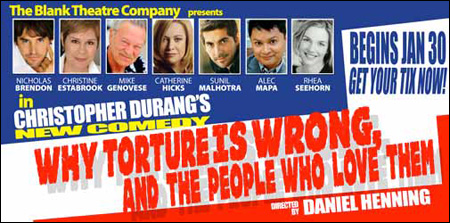 For theater fans in Los Angeles, check out
Why Torture Is Wrong and the People Who Love Them
, a new comedy by Christopher Durang, presented by
The Blank Theatre Company
and making its west coast premiere at the The Stella Adler Theatre in Hollywood. The play features our friend Sunil Malhotra and Alec Mapa, who I'm told have pretty prominent roles. Here are details:
WHY TORTURE IS WRONG, AND THE PEOPLE WHO LOVE THEM

by Christopher Durang

Directed by Daniel Henning

West Coast Premiere - LIMITED ENGAGEMENT!

THE STELLA ADLER THEATRE
6773 Hollywood Blvd.
Los Angeles, CA 90028

January 30 - March 14, 2010

Our "Poet Laureate of the Absurd," Christopher Durang turns political humor upside down with this raucous and provocative satire about America's growing homeland "insecurity." A young woman is suddenly in crisis: Is her new husband, whom she married when drunk, a terrorist? Or just crazy? Or both? Is her father's hobby of butterfly collecting really a cover for his involvement in a shadow government? Why does her mother enjoy going to the theatre so much? Does she seek mental escape, or is she insane? Honing in on our private terrors both at home and abroad, Durang oddly relieves our fears in this black comedy for an era of yellow, orange and red alerts. Don't miss the West Coast Premiere of this hilarious and sometimes disturbing new work which recently extended with rave reviews at the Public Theater in New York.
This sounds like a crazy-ass play, and I like it. The title alone should intrigue you. The production officially opens on February 6, but previews start this weekend, on January 30. For more information about the play, including ticket info, go to the The Blank Theatre Company
here
.