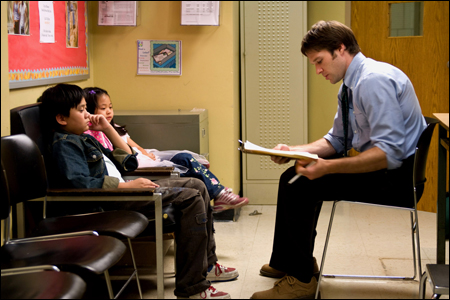 Boston! One of my favorite Asian American indie films of the moment,
Children of Invention
is coming home. It opens this Friday, February 26 and runs through March 4 at the Brattle Theatre in Cambridge. If you're not familiar with the film, here's the official synopsis:
One of Filmmaker Magazine's "25 New Faces of Independent Film," writer-director Tze Chun makes his feature film debut with one of the most-awarded and best-reviewed films of the year. CHILDREN OF INVENTION is by turns humorous and heartbreaking, an "edge-of-your-seat family drama" (Spout) that's both "powerfully moving and rigorously intelligent."(Boston Phoenix).

After being evicted, hardworking single mom Elaine Cheng (Cindy Cheung, Lady in the Water) tries to maintain a normal life for her children, Raymond and Tina. Elaine juggles a number of jobs, including working for a questionable pyramid scheme. When Elaine doesn't return home one night, nobody knows the kids are home alone, and they are left to fend for themselves. As the days pass, Raymond, a budding inventor, realizes he needs to come up with a plan to take care of his little sister.

Referencing both the mortgage meltdown and suburban Ponzi schemes, "the film finds delicate moments of beauty and grace as its child heroes are forced to make their way" (Filmmaker Magazine). Featuring "gifted child actors--off-the-charts cute, refreshingly free of Hollywood precociousness" (LA Weekly), CHILDREN OF INVENTION is "as close to cinematic purity as one is likely to see this year" (Film Society of Lincoln Center), a timely drama about the influence of the adult world on children and resilience in hard times.
What makes this run particularly cool is that
Children of Invention
was set and filmed in the Boston area. And if you check out the film this weekend, writer/director Tze Chun and producer Mynette Louie will be there Friday and Saturday night for post-screening Q&As. Some details:
BOSTON - Opens Fri, 2/26

FEB 26 to MAR 4, 2010

Brattle Theatre
40 Brattle St, Cambridge, MA (map)
Subway: Red Line T to Harvard Square
(617) 876-6837

Q&A w/Tze & Mynette after Fri, 2/26 + Sat 2/27 screenings

>> BUY TICKETS!
Come out, pack that theatre, and support this film!
Cop Out
and
The Crazies
can wait for another day. Heck, I've already seen it multiple times, but I'll happen to be in Boston this weekend, so I'll be there too! For more information about the movie, visit the
Children of Invention
website
here
.