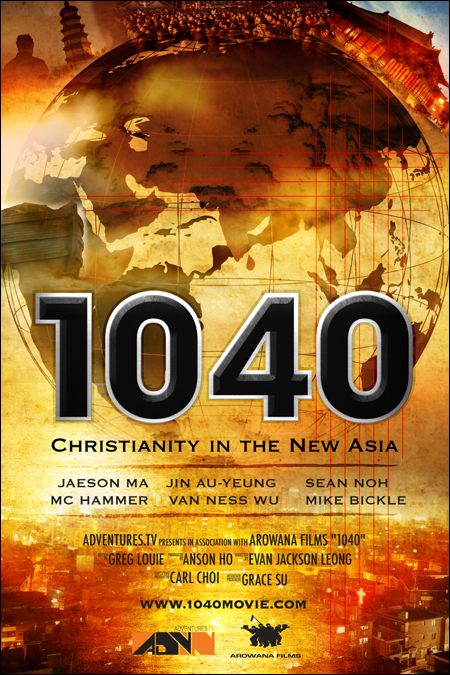 I recently heard about a new documentary,
1040
, produced by a bunch of friends of mine... Directed by Evan Jackson Leong, produced by Anson Ho and Carl Choi, and featuring Jaeson Ma, Jin the MC, Van Ness Wu, Mike Bickle and MC Hammer, the film is described as a journey through the "spiritual landscape" of Asia:
1040 is an explosive documentary that focuses on the rapid changes in Asia and the significant shift of spiritual landscape in the area known as the "10/40 Window" - the regions between 10 degrees and 40 degrees North Latitude on the eastern hemisphere. In the film, artist and minister Jaeson Ma takes us on an exciting journey through the Asian countries in the window, showing us the dramatic changes happening on the ground. We visit China, South Korea, Taiwan, Hong Kong, Singapore, and Indonesia. Through incisive observations, intimate interviews with prominent leaders and celebrities, and powerful, never-before-heard stories, 1040 dynamically explores a part of our globe that is experiencing vast socioeconomic expansion and profound shift in identity - it is an area that is now nothing less than the frontier of world Christianity.
The film is making its world premiere as the official Opening Night Film of the 2010 City of the Angels Film Festival this Friday, March 12 at the Director Guild of America in Los Angeles. Here are the screening details:
1040 - A Feature Film Documentary

An Adventures.TV and Arowana Films Production

Featuring Jaeson Ma, Jin the MC, Van Ness Wu, Mike Bickle, MC Hammer, and Sean Noh

Directed by Evan Jackson Leong. Produced by Anson Ho. Executive Produced by Carl Choi

Friday, March 12th, 2010 - Showtime: 7:00 PM
(Pre-Opening Reception and Red Carpet at 5:30pm)

City of the Angels Film Festival at the Directors Guild of America
7920 West Sunset Boulevard
Los Angeles, CA 90046
(Free Parking Available in the DGA garage, on N. Hayworth Ave, off Sunset Blvd.)

**Ticketing Info: $10 VIP TICKETS AVAILABLE ONLINE NOW AT www.caff.eventbrite.com

The screening will be followed by a Q&A with the film's stars and filmmakers. The evening will conclude with a Premiere After-Party at Opera Crimson in Hollywood (Complimentary with Ticket Stub). Please join us for this extraordinary celebration!
I'm told that guests at the screening will include Sean Noh from Korean hip hop group "Jinusean," hip hop legend MC Hammer(!), Van Ness Wu and Jin the MC. Yes, you read that correctly -- MC Hammer. To learn more about the documentary, visit the
1040
website
here
, and watch the teaser trailer
here
.