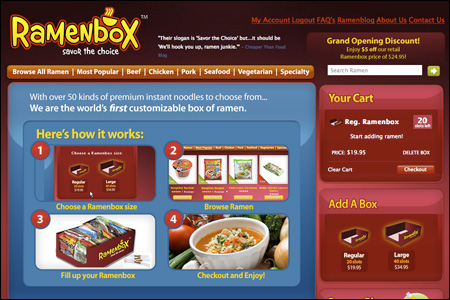 After an evening out (usually involving a little bit of alcohol) my favorite late night snack is a steaming, salty bowl of instant noodles. Ramen! Unfortunately, I often stumble back to my place to discover my cupboard is bare. No ramen.
Fortunately, there's
Ramenbox
to keep me stocked and supplied. Started by Howard Chan and Becky Wu, the idea is simple: 1. Pick a Ramenbox size (regular or large). 2. Browse the site and fill up your box with an assortment of ramen. 3. Check out and wait by your mailbox. 4. Eat the ramen.
It's a customized box of ramen. I just ordered a box myself, and the site is fun and easy to use. Where was Ramenbox when I was in college? It's perfect for all those starving students who are tired of regular ol' Cup O'Noodles. Time to expand your ramen consciousness with a little more Asian spice.
For those who don't have a local Asian market, wherever you are, you do not have to crappy ramen anymore! Just head to
Ramenbox
. And for you, the good readers of this website, Ramenbox is offering a special 10% discount. All you have to do is enter the coupon code
"angry"
at checkout. Enjoy your noodles.