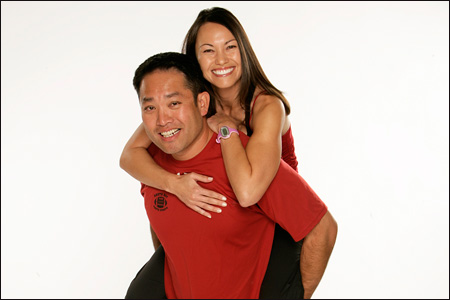 Hey! We've got some Asian faces on the latest season of
The Amazing Race
, which begins tonight. The hit CBS reality show follows eleven teams in a race around the world for a chance to win a million dollars. You might remember last year when brother/sister team
Tammy and Victor Jih
won the competition.
This season, since we're in the habit of keeping track of the Asians-on-TV situation, there's
Joe and Heidi Wang
, a married couple from El Segundo, California. Joe is a software sales executive, and Heidi is a homemaker. They have two kids.
I've seen tonight's episode, and so far, Joe and Heidi seem like pretty normal, grounded folks -- and very much in love. That's cool. Though Heidi
describes
Joe as "a very intense and short tempered individual who thinks he's right all the time" and Joe says Heidi "can't multi-task," so who knows... maybe we'll see some reality show drama unfold at some point.
At this point, they don't appear to be the strongest of the competitors, but this is only the beginning, and fortunes can change fast on
The Amazing Race
. I'll be rooting for them. And to be honest, I'll also be watching because I'm train-wreck-curious about Caite, the infamous Miss Teen South Carolina
"maps"
girl. Yeah, she's in it.