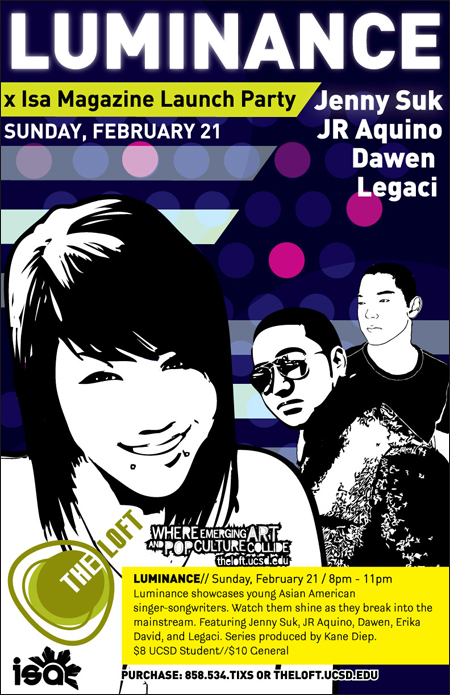 If you're in San Diego, and anywhere near UCSD this weekend, come on out to
Luminance
, an Asian American music showcase featuring Jenny Suk, JR Aquino, Dawen and Legaci. It's happening this Sunday, February 21 at The Loft and UC San Diego. Here are the details:
The Loft Presents

LUMINANCE
Featuring Asian American Musicians
Jenny Suk, JR Aquino, Dawen and Legaci

The Loft at UC San Diego
Sunday, February 21, 2010
7:30 PM Doors / 8:30 PM Show
UCSD Price Center East, 2nd Floor
La Jolla, California
Regular: $10
858.534.TIXS (8497) or www.theloft.ucsd.edu

From the online media outlets such as YouTube and BlogTV, Luminance is the evening that illuminates creative talent within the Asian American music community. Highlighting the vocal chords of Jenny Suk, JR Aquino, Dawen and Legaci, Luminance presents a new stage for these artists by opening the computer screen barrier and bringing them live to The Loft.
You've seen them on YouTube, now see them doing their thing live and in person. Yes, they're real, breathing people and they want to share their music with you. For more information, and to purchase tickets, go to The Loft's website
here
.
Oh, and check out this sweet
video
of Dawen and Esna Yoon doing a mashup performance of "Bedrock," "Replay" and "Sweet Dreams. Catch them this weekend at Luminance!