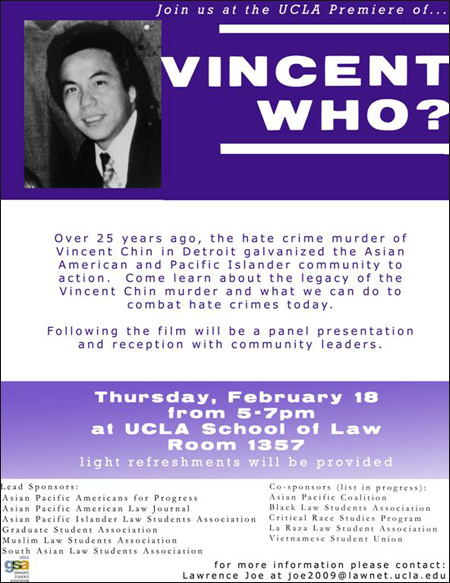 If you're at UCLA, and you're free this Thursday, come on out to a screening and discussion of the short documentary
Vincent Who?
, looking back at landmark hate crime murder case and its important legacy for APA activism. Here are some details:
Vincent Who?
Film Screening and Presentation

Thursday, February 18, 5-7pm
UCLA School of Law, Room 1357

Cost: Free

Light Refreshments Will be Served.

Over 25 years ago, the hate crime murder of Vincent Chin in Detroit galvanized the Asian American and Pacific Islander community to action. Come learn about the legacy of the Vincent Chin murder and what we can do to combat hate crimes today.

Following the film will be a panel presentation and reception with community leaders.

Film Trailer:
http://www.youtube.com/watch?v=tQivEXrnjNM&feature=related

Lead Sponsors: Asian Pacific Americans for Progress | Asian Pacific American Law Journal | Asian and Pacific Islander Law Students Association | UCLA Graduate Student Association | Muslim Law Students Association | South Asian Law Students Association

Co-Sponsors: Asian Pacific Coalition | Black Law Students Association | Critical Race Studies | La Raza Law Students Association | Vietnamese Student Union
I'm honored to be one of the people asked to speak on the panel after the screening. The film is great, and I'm hoping it'll lead to a really interesting discussion. For more information about the event, go to the Facebook page
here
or take a look at the flyer above.