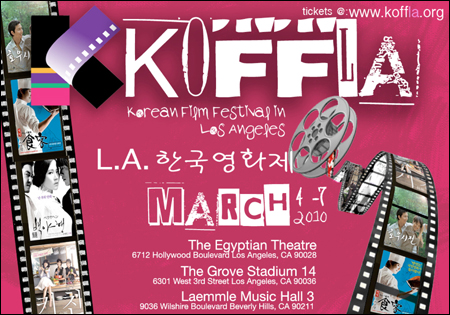 Cinema fans! Another festival for you... The
Korean Film Festival Los Angeles
(KOFFLA) kicked off tonight and runs through the weekend, offering a place film lovers and filmmakers to connect and facilitate the exchange of ideas and experiences between the Korean and American motion picture industry.
The festival's schedule includes a number of features by Korean and Korean American filmmakers, shorts by emerging artists, a director focus on Ryu Seung Wan, a master class with cinematographer Kim Hyung-ku, and more. Here are some basic details:
Korean Film Festival in Los Angeles (KOFFLA)

The Korean Film Festival in Los Angeles (KOFFLA) will take place in Los Angeles from March 4 to 7, 2010. Organized by the Korean Cinematheque (501(c) 3) and sponsored by Korean government entities including the Korean Cultural Center, Korean Film Council, and Korean Tourism Organization, KOFFLA's mission is to share the excitement and dynamism of Korean cinema with the Southern California community.

KOFFLA is headed by festival director Chang-Wha Chung (Five Fingers of Death) and our Advisory Board whose members include Eric Mika of The Hollywood Reporter, director Chan-wook Park (Oldboy, Thirst), and executive producer Chris Lee (Valkyrie, Superman Returns). KOFFLA 2010 will showcase over 60 features and short films by established and emerging Korean filmmakers from around the world as well as a variety of special events including:

- Opening Night Ceremony at the Egyptian Theatre with Korean film celebrities and a presentation of the Opening Film, Le Grand Chef II - Thursday, March 4

-Master Class at the AFI Conservatory with cinematographer Kim Hyung-ku (The Host, Memories of Murder) - Friday, March 5

- Surprise Screening of a Korean masterpiece at the Laemmle Music Hall - Friday, March 5

- Actorfest KOFFLA, a version of Back Stage's Actorfest LA/NY tailored specifically for Asian and Asian-American actors - Saturday, March 6

- Retrospective of world-renowned Korean director Ryoo Seung-wan (Crying Fist, The City of Violence, Arahan)

- Highlight selections from the Pusan International Film Festival, Jeonju International Film Festival, and Pucheon International Fantastic Film Festival

- Selections of the best in Korean-American features and shorts

*All film screenings will be held at the Egyptian Theatre, the Pacific Theatres at the Grove, the Laemmle Music Hall, and the AFI Conservatory from Thursday, March 4 to Saturday, March 6.
They've got a packed schedule of screenings and events, whether you're in the industry or just really crazy about good cinema. For more information, go to the KOFFLA website
here
, the Korean Cinematheque Facebook page
here
, or follow KOFFLA on Twitter
here
.