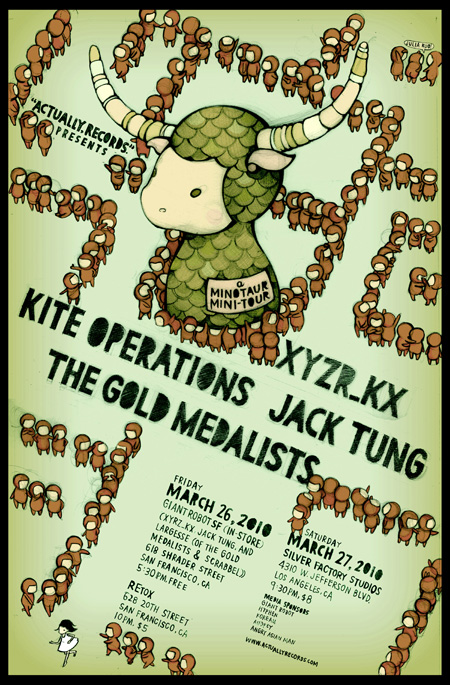 California! Heads up...
"Actually, Records"
has announced their first label showcase on the West Coast with 'A Minotaur Mini-Tour.' Featuring four critically acclaimed acts from the label roster -- Kite Operations, XYZR_KX, The Gold Medalists and Jack Tung, this mini-tour promises to present the best in left-field Asian American indie-rock, electro-pop and post-noise.
The tour begins on Friday, March 26 in San Francisco with an in-store performance at Giant Robot and a show at Retox. The tour also stops in Los Angeles, with a show at Silver Factory Studios in March 27. And that's it. Hey, it's a mini-tour.
"Actually, Records" is a Chicago-based independent record label specializing in releasing innovative and exceptional records regardless of commercial restraints; blurring the lines between the electronic/acoustic, linear/entropic and tonal/atonal. Their words, not mine.
'A Minotaur Mini-Tour' is sponsored by Giant Robot, Hyphen Magazine, Koream Journal, Audrey, and yours truly. So if you're in SF or LA, make plans to rock out. For more information about the tour, including ticket sales and artist info, as well as some free music downloads, visit "Actually, Records" website
here
.