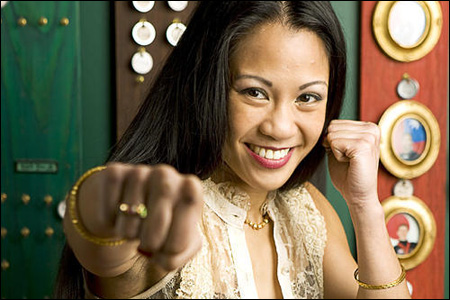 This is several weeks old, but I wanted to share this
SF Weekly
article on 29-year-old Filipina boxer Ana "The Hurricane" Julaton, the woman some people are calling "the female Manny Pacquiao":
The Eyes of the Hurricane
. You do not want to mess with her.

The comparisons between Pacquiao and Julaton are inevitable, even if they're baseless. Both are Filipino by blood and have trained under legendary coach Freddie Roach. But the similarities end there. While Pacquiao commands cameras wherever he goes, Julaton is thrilled to get a bio-blip on E:60. Even in 2010, the reason comes down not only to talent but also that divider of yore: gender. Julaton makes a novel athlete profile, but that doesn't translate into love from the network for her sport. The only time you'll usually see women's boxing on ESPN in recent years - or on any other network, for that matter - is as time-killing filler when the male headliner gets knocked out in the early rounds.

Julaton is fighting not only to become the world's undisputed champion, but also for women's boxing to get some respect. "All I want to do is have these people change their mind," she says. "That's it."
Alas, over the weekend she was defeated by Lisa "Bad News" Brown in Ontario, losing the WBA world championship in the super bantamweight category by unanimous decision:
San Francisco Boxer Ana Julaton To Defend Title After Weekend Loss
.
From what I hear, the loss wasn't pretty. But with each match, Julaton gets closer to her goal: getting respect for women's boxing. Sure, okay, there's a lot of hype around her because she's a babe, but she could probably beat your ass in the ring. My ass, at least.