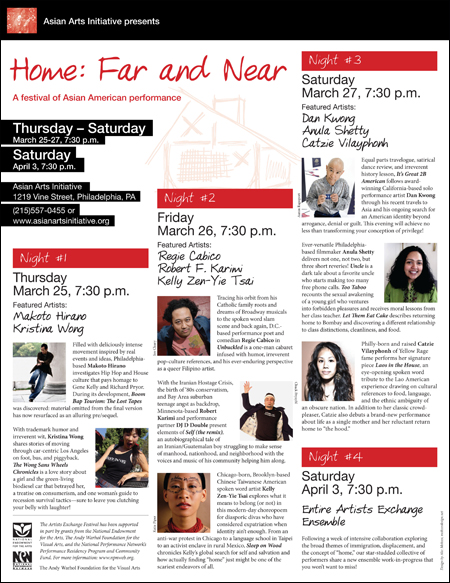 Philadelphia! Something cool for you... The
Asian Arts Initiative
presents its spring program, Home: Far and Near, a festival of Asian American performance and artist exchange. Things kick off this Thursday, March 25, followed by shows this weekend, as well as a grand finale performance on April 3. Read on for details:
Asian Arts Initiative presents

HOME: FAR & NEAR
A festival of Asian American performance

Thursday - Saturday, March 25 - 27, 7:30 p.m.
Saturday, April 3, 7:30 p.m.
(Doors open 30 minutes in advance - come stroll through our gallery!)

Asian Arts Initiative
1219 Vine Street, Chinatown, Philadelphia

Tickets: $15 general admission
(Special Offer: $40 for all 4 shows!)
Discounts available for students & groups

For more information:
(215)557-0455 or www.asianartsinitiative.org

Exploring broad themes of immigration, displacement, and the concept of home, Asian Arts Initiative's 2010 Artists Exchange convenes a cadre of Asian America's most talented and provocative performers – some classic, some cutting edge, all unforgettable.

It starts with three nights of not-to-miss showcases of solo work. Then, following a week of intensive collaboration, our star-studded collective of artists from around the country debut a new ensemble work-in-progress that invokes their creativity to speak to common community concerns.

Night #1 (Thursday, March 25) will feature Makoto Hirano and Kristina Wong.
Night #2 (Friday, March 26) will feature Regie Cabico, Robert Karimi, and Kelly Zen-Yie Tsai.
Night #3 (Saturday, March 27) will feature Dan Kwong, Anula Shetty, and Catzie Vilayphonh.
Night #4 (Saturday, April 3) will feature the entire Artists Exchange ensemble!

BUY YOUR TICKETS TODAY!
http://www.brownpapertickets.com/producerevent/100181?prod_id=7841
They're currently offering a special discount. If you purchase a ticket for one night's performance, you'll be able to attend an additional show of your choice for half the admission price. They've also got student and group discounts. For more information about Home: Far & Near, go to the Asian Arts Initiative website
here
. And purchase tickets
here
.