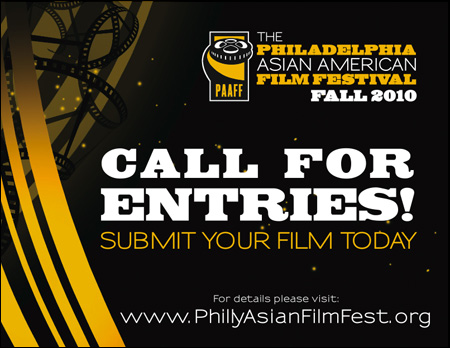 Our friends at the
Philadelphia Asian American Film Festival
are now accepting submissions in narrative fiction, documentary, shorts and Philadelphia short films (by Philadelphia residents). Here's some basic info:
The 2010 Philadelphia Asian American Film Festival is now accepting submissions for the following festival award categories:

Narrative Fiction (40 mins+)
Documentary (30 mins+)
Short Film (1-39 mins)
Philadelphia Short Film* (1-39 mins)

Postmark Deadlines:
Early: April 15, 2010
Final: May 30, 2010

Why submit?
* We are the first and only Asian American film festival in the Philadelphia area and have been supported by organizations including the Greater Philadelphia Film Office, HBO, Comcast, the Philadelphia Cinefest as well as diverse, intelligent audiences.
* Networking opportunities with filmmakers and talent throughout the country.

Eligibility:
* Films must be directed, produced, or principally acted by an Asian Pacific Islander.
* If the director is non-Asian, the film's subject matter must involve Asians.
* Foreign language films must have English subtitles.
* We are accepting submissions for our new Philadelphia Shorts category for filmmakers based in Philadelphia.
The early deadline is coming up in about a month, so submit your film now through
Withoutabox
. For more information, including guidelines, eligibility and fees, visit the Philadelphia Asian American Film Festival website
here
.