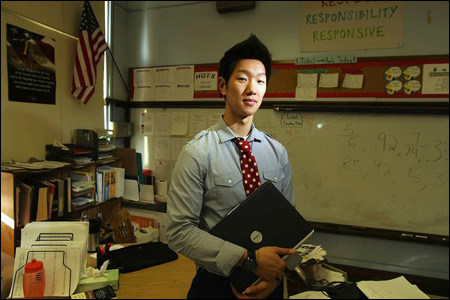 Here's a great
Chicago Tribune
story on Joseph Lee, a Northwestern University graduate who was on a traditional track to go to med school, but switched gears and ended up becoming a teacher in inner-city Chicago:
Pre-med student switches gears to teach in Chicago school
.
He had even taken the MCAT and everything, but his heart just wasn't in it to apply to med school. Instead, he chose teaching "where students had little to nothing: abysmal test scores, scant support at home, few people who still believed in them" -- basically, where he knew it wasn't going to be easy:
Since the beginning of the school year, Lee has been teaching at Parkside Community Academy, an elementary school in the South Shore neighborhood. Hired a week before school started, he was told that he'd have to teach science but warned there were no textbooks. He had to teach social studies, for which there were books but little time. He also had to teach reading, and recently math was added to the list.

When Lee arrived in Room 312, the walls were barren and dusty. Old cabinets littered the corners. So he set out to patch over some of the inequities. He added motivational posters, including one listing his expectations, and he built a wall of fame for students' achievements.

Soon his 30 students — a group of seventh- and eighth-graders — arrived.

"It was so hard in the beginning," he said. "Many of my students had no supplies. They didn't do homework, and they were often suspended for either fighting or bringing drugs to school. Emotionally I was a wreck and on the verge of tears every day. I wasn't getting any sleep, and I was wondering: Can I do this?"
According to the article, it hasn't been easy, but seven months into his new job, Joseph has seen some progress. He has a two-year commitment with Teach for America, and he's sticking with it. Did I mention that Joseph also happens to be a longtime reader of this blog? Mad props.
UPDATE: Here's Joseph getting interviewed on CNN:
Schools in Crisis
.