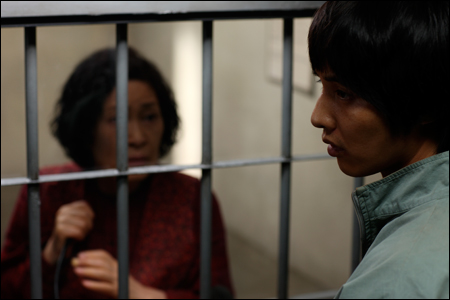 Here's a free screening opportunity for all my angry friends in Los Angeles... Next week, the critically-acclaimed South Korean film
Mother
opens in select theaters. Directed by Bong Joon-Ho, it's a touching story of a mother's fight to prove her son's innocence when he's accused of murder. Here's the synopsis:
Hye-ja is a single mom to 27-year-old Do-joon. Her son is her raison d'etre. Though an adult in years, Do-joon is naïve and dependent on his mother, and a constant source of anxiety, often behaving in ways that are foolish or simply dangerous. Walking home alone one night down a nearly empty city street, he encounters a young girl who he follows for a while before she disappears into a dark alley. The next morning, she is found dead in an abandoned building and Do-joon is accused of her murder. Thanks to an inefficient lawyer and an apathetic police force, Do-joon's case is quickly closed, but his mother refuses to let this be the end of the story. Trusting no one, Hye-ja's maternal instincts kick into overdrive, and she sets out to find the girl's killer and prove her son's innocence.
It's a great film, and Kim Hye-Ja delivers a brilliant performance. Writer/director Bong Joon-Ho, the guy behind fantastic films like
The Host
and
Memories of Murder
, just has a knack for tossing all conventions aside and turning a genre on its head.
If you're in Los Angeles next week, you have the chance to see a free advanced screening on
Tuesday, March 9, 7:00pm
at the Laemmle Music Hall (9036 Wilshire Blvd, Beverly Hills, CA 90211).
To RSVP for the screening, email
rsvpmother@gmail.com
and specify if you will be bringing a guest. The deadline to RSVP is 11:59pm on Monday, March 8. An RSVP is needed to keep track of the expected number of guests, but seating will be on a first come, first serve basis --
a seat will not be promised
. So make sure you get there early.