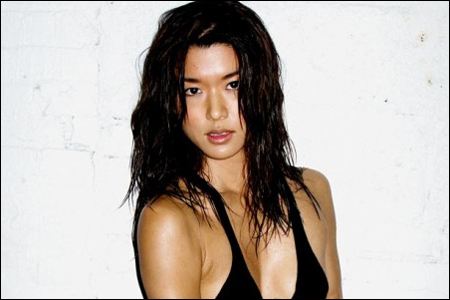 Did you hear?
Grace Park
, the Asian Canadian beauty best known for her role as Lt. Sharon "Boomer" Valerii on
Battlestar Galactica
, has joined the cast of the upcoming CBS remake of
Hawaii Five-0
:
Grace Park joins 'Hawaii Five-O.'
I'll admit, I had some serious initial doubts about this show, but that's definitely turning around. With Daniel Dae Kim
already cast
as Chin Ho Kelly, this latest casting news makes it my most anticipated show of next season, and pretty much guarantees that I'll tuning in. Of course, we'll have to see what they actually do with these characters.
Grace will play Kona Kalakaua, "a spectacular Asian/Hawaiian beauty who is a champion surfer, with the smarts to match her amazing physical prowess. However, Kono's sole interest is getting her badge and becoming a cop. She's about to graduate from the police academy when McGarrett recruits her to join his team." She's also Chin Ho Kelly's niece.
Wait, Grace Park as Daniel Dae Kim's niece? Uh, okay, I guess. Coincidentally, the two served as co-hosts of the Asian Excellence Awards a couple of years back. Can this much hotness exist on one television show? Looking forward to seeing what this ensemble looks like when it plays out.