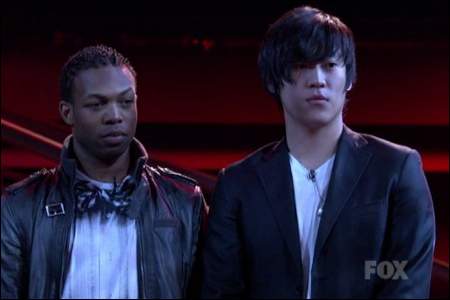 Aw, dammit. Bad news for John Park fans. The 20-year-old Korean American Northwestern University student from Northbrook, Illinois was eliminated last night from
American Idol
. I don't think it was a huge surprise to
Idol
fans, but it doesn't make it any less disappointing.
After getting the attention of none other than
Shania Twain
during his Chicago audition, he was an early favorite, but after two weeks in the Top 24, he couldn't summon enough votes to stay in the competition. There's no doubt he's got a hell of a voice. I guess he just wasn't able to deliver the performances he needed.
Dammit! I was pulling for him, but John Park Movement just wasn't powerful enough to keep the dream alive. The guy gave me a reason to watch
American Idol
for the first time in years. I guess it's back Northwestern and Purple Haze for John. I'm cheering for Andrew Garcia now.
UPDATE: EW has a follow-up interview with John Park, who talks about his song choices, his lack of screen time (seriously!) and the awesome reaction he got from Shania Twain:
'Idol' exit Q & A: John Park talks Shania and what went wrong
.