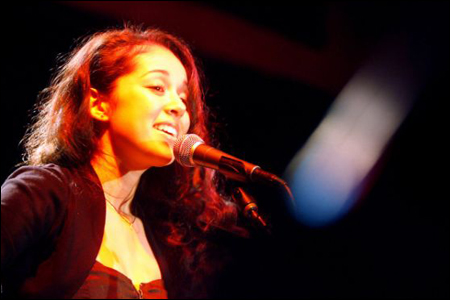 Here's another good
Orange County Register
article on singer/songwriter
Kina Grannis
, who just released her debut album
Stairwells
. You know I'm a fan. She is not only one of the sweetest gals around, she works her butt off for her fans -- and her fans love her back:
Kina Grannis' music deal is with her fans
.
You'll recall that she won the Doritos
Crash the Super Bowl
contest a few years back, getting her song "Message From Your Heart" aired in front of 97 million viewers and scoring herself a record deal with Interscope Records. She was poised for music superstardom... then turned her back on it.
For the time being, that is. Instead of giving over her album to the label's songwriters, she dropped the contract and -- with the support of her fans -- opted to do it herself. Her own music, on her own terms. It took a couple of years, but she has given us
Stairwells
, and it's a wonderful, beautiful album.
Kina is still unsigned. And she's doing it all herself -- no publicist, no booking agent. She makes all the YouTube videos and answers all the emails, developing a close, loyal relationship with her fans ("Kinerds"). She is easily one of the hardest-working musicians I know, and deserves every ounce of success that comes her way.
And guess what? Last week,
Stairwells
cracked Billboard's Top 200, debuting at #139. Pretty damn great for an independent artist with no major label behind her. Congratulations! For more information on Kina Grannis, and to purchase
Stairwells
, visit her website
here
.