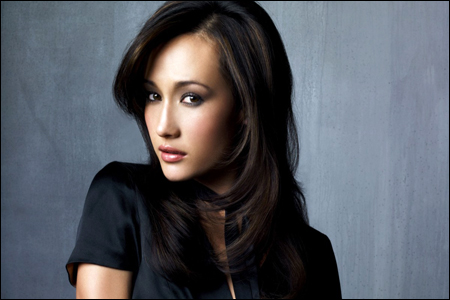 This news is a couple of weeks old, but I wanted to mention it... Maggie Q, who you've seen kicking ass in movies like
Mission: Impossible III
and
Live Free or Die Hard
, will be kicking more ass this fall as the title character in CW's remake of
La Femme Nikita
:
Maggie Q to star as CW's 'Nikita'
.
The Hollywood Reporter
notes that casting Maggie Q in the show's title role would mark the highest-profile series role for an Asian actress on a broadcast drama series and the highest-profile CW minority casting in the network's four-year history. Considering how
white
CW, I guess this is no small feat.
This new version would center around a new Nikita being trained to replace the original one after she goes rogue. Series creator Craig Silverstein said he saw an opportunity to break the stereotype, and he wrote the lead as "beautiful and exotic." Uh. Wait. Did I just read that right?
Here's what I do find interesting about Maggie Q as Nikita. The role, which has gone through several different remakes, has traditionally been played by Caucasian actors: Anne Parillaud in Luc Besson's 1990 original, Bridget Fonda in 1993's
Point of No Return
, and Peta Wilson in the 1997 television series.
It's a rare occasion when the remake role race switcheroo goes the other way around, right? Though I guess if the producers are fixated on "beautiful and exotic," there might not be too much to be excited about. More here:
This spicy actress is the new femme Nikita
.