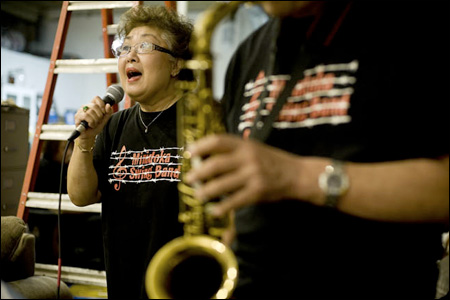 This is an awesome
Wall Street Journal
story out of Portland on the Minidoka Swing Band, a tribute band commemorating internment camps and the Japanese American teenagers who enjoyed swing music behind barbed wire during World War II:
A Tribute Band Like No Other Swings to Remember Life Behind Barbed Wire
.
The band started three years ago at a Japanese youth center. The 25 or so members of the Minidoka band range from age from 14 to 83, and include several former internees: vocalists Henry Sakamoto and Nola Sugai-Bogle were at Minidoka. Bandleader Larry Nobori spent time as a small child in the camp at Jerome, Ark. Three band members are children of internees.
During World War II, swing dancing at the internment camps gave Nisei youth a way to assert their American-ness. A number of Japanese swing bands from the big cities of the West Coast reassembled in the internment camps, and some new ones formed there. I remember learning about the most famous band, the Jive Bombers, when I visited Manzanar. Minidoka, however, never had a swing band:
No swing band ever played at the Minidoka camp. Seattle's Mikados of Swing had just completed a West Coast tour before its members were sent to Minidoka.

They decided their name was too Japanese, changed their name to the Harmonaires, and began practicing. They actually played outside the camp, under guard, at a high school prom held for Anglo teens in nearby Twin Falls.

But, thanks to a wartime labor shortage, band members got a chance to leave Minidoka during harvests. The result: The Harmonaires disbanded before playing for their peers. So the internees got their swing music from records.

"It's nice to see a band called Minidoka because we never had one in the internment camp," says Frances White, 82, a fan of the current band. Ms. White was Chiyoko "Chickie" Ishihara, her maiden name, when she sang with the Mikados of Swing in 1939, before they got to Minidoka.
The internment of Japanese Americans during World War II was one of the darkest moments in United States' history. Yet it always astounds me when I read and hear about the thousands of unjustly incarcerated Japanese Americans who somehow made life work and created some sense of normalcy in what were essentially prisons in the middle of the freaking desert. This is a great tribute.