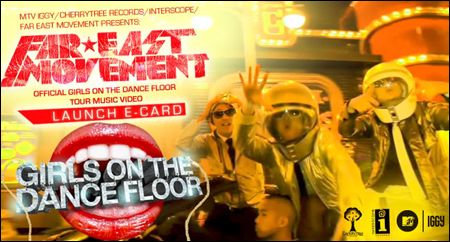 At long last,
Far East Movement
has released the official tour
music video
with Cherrytree/Interscope Records for "Girls on the Dance Floor." It's all kinds of crazy hot, with lots of good lookin' party people... and a dude in a gorilla suit. Check it out:
Fans know that the song's been out for a while, and while it's received solid airplay in some cities, it hasn't been fully pushed everywhere in the world. So they wanted their first official visual for the track to capture that live, fun party element of what they're all about.
So... they brought a film crew with them to Las Vegas, rented a car and had the cameras follow them around on a crazy night around town, where they performed a show at the House of Blues... and participated in other shenanigans. I hope Kev didn't get hurt at the end there.
If you know the guys in FM, you know they're some of the hardest-working guys in music -- they put on great live shows, they tour
a lot
... and they know how to have a good time. So I think it perfectly captures their vibe. It's still a hot track, and I don't get tired of hearing it. For more details, go to the FM's website
here
.