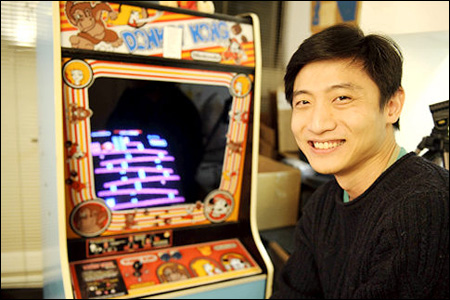 Dr. Hank Chien, a 35-year-old plastic surgeon from Queens, has been crowned the new king of Donkey Kong. Yes, the old arcade game. He racked up a score of 1,061,700, beating the old record by 10,000 points:
Queens doctor, Hank Chien, named new King of Kong, smashes video game's top score
.
Big deal, right? It is a big deal. The Donkey Kong high score is actually one of the most coveted, revered records in the classic video game community. Chien's feat was confirmed by Twin Galaxies, the official score keeper of electronic games:
Chien set the world record during a 21/2-hour game he started late Feb. 26 and ended in the wee hours of Feb. 27 on his personal Donkey Kong machine at an East Side apartment he shares with his brother.

"That was the day of a huge snowstorm in the city," Chien said. "I actually took the day off from work and slept most of the day; so I was completely caught up on sleep."

In keeping with Twin Galaxies' stringent regulations, Chien videotaped the machine inside and out before and after the game, and completed a 39-point check list.

Twin Galaxies' board of referees reviewed his entry and let him know Friday that he had officially topped Donkey Kong champion Billy Mitchell's world record.
The crazy part is, Chien has apparently only been playing Donkey Kong since last September, when he was inspired by the documentary
The King of Kong: A Fistful of Quarters
. If you've seen this film, which is awesome, then you understand Chien's quest. Take that, Billy Mitchell! Congratulations, Hank. You are the new king of Kong. That should definitely help you score with ladies.