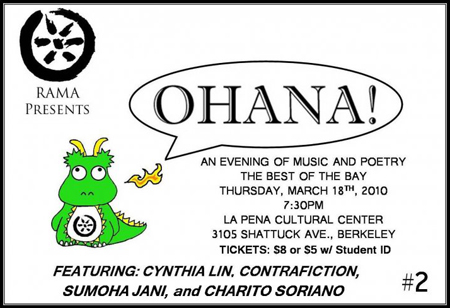 RAMA presents another OHANA! variety showcase featuring acclaimed singer/songwriter Cynthia Lin, coming in all the way from New York. Other performers including Contrafiction, Sumoha Jani, Charito Soriano... and introducing Joseph Harris, aka THE Yo Yo Jo. It's happening this Thursday, March 18 in Berkeley. Here are the details:
OHANA!
An evening of music and poetry, brought to you by RAMA
Thursday, March 18th, 2010
Box office opens at 7:00pm / Show starts at 7:30pm

La Pena Cultural Center, 3105 Shattuck Ave., Berkeley
$8 General Admission / $5 with valid Student ID
Drinks available at the La Pena bar!
Free sandwich samples from Uncle Dougie's New York Style Italian Heros!
Hosted By: Ryan Takemiya

FEATURING:
Acclaimed singer/songwriter ***CYNTHIA LIN***
Contrafiction
Sumoha Jani
Charito Soriano
...and introducing Joseph Harris aka THE Yo Yo Jo
Come on out, community And spread the word. They're trying to make this a monthly series for Bay Area folks, and hopefully make the East Bay a little more happening place for API artists. For more information, visit the OHANA! Facebook event page
here
.