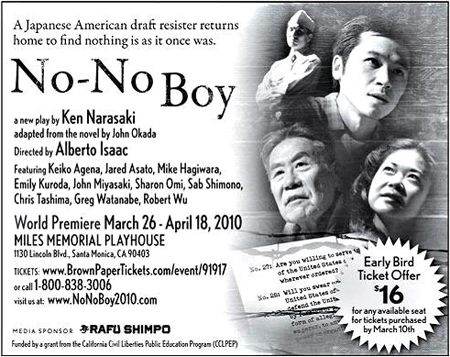 If you're in Southern California, you're invited to check
No-No Boy
, Timescape Arts Group's new stage adaptation of John Okada's classic
novel
. It runs Friday-Sunday, March 27 - April 18 at the Miles Memorial Playhouse in Santa Monica.
Written by Ken Narasaki and directed by Alberto Isaac, the play features Keiko Agena, Jared Asato, Mike Hagiwara, Emily Kuroda, John Miyasaki, Sharon Omi, Sab Shimono, Chris Tashima, Greg Watanabe and Robert Wu. Here's the description:
1946. Seattle, Washington. A Japanese American draft resister is released from prison and returns home to find nothing is as it once was. He struggles to piece together his war torn world.

Ken Narasaki's stage adaptation of John Okada's ground breaking novel No-No Boy is scheduled for its world premiere March 27, 2010. Originally published in 1957, the novel was re-discovered and republished in 1976 and has since become a staple of Asian American studies programs in universities across the country. "No-no boy" refers to draft-age Japanese American men who refused to sign a loyalty oath administered in the internment camps; many of these men were ostracized after the war ended. Set after World War II as Japanese Americans return to the West Coast, the play follows draft resister Ichiro Yamada after he is released from prison and struggles to come to terms with the consequences of his choices, while the rest of the community tries to get back on its feet after a war that has uprooted them all

The same artistic team produced Innocent When You Dream (Critic's Choice LA Times, Pick of the Week LA Weekly), which had a successful run at Electric Lodge in Venice and was later invited to perform at the Smithsonian Institute (Washington, DC) in 2008. for more information please visit: www.timescapearts.com.

Funding for this production of No-No Boy was provided by the California Civil Liberties Public Education Program, a program of the California State Library.

Timescape Arts Group is a (non-profit 501 (c) (3)).

Contact us: nonoboy2010@gmail.com
If you're interested in going, you've only got a day or two to purchase Early Bird Tickets. Save almost ten dollars off our General Admission price of $25.00 if you purchase by March 10. I'm told that they're already sold out of the March 28, April 10, April 11 matinees. Purchase your tickets
here
.
On a personal note, I have to say that
No-No Boy
is one of the most influential novels in my own Asian American literary education. It's an awesome, powerful novel -- practically required reading -- and I'm looking forward to seeing it dramatized. In fact, I'm inspired to pull it off the bookshelf, dust if off, and read it again. If you've never read it,
get it now
.