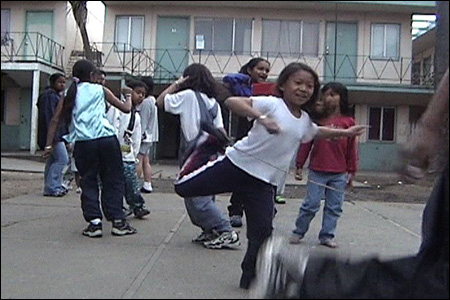 The Oak Park Story
is a new short documentary by Valerie Soe that recounts the struggles of a community of Cambodian and Latino immigrants who joined forces to sue their landlord when their Oakland apartment complex fell into disrepair. It tells the story of three very different families:
Khlot Ry arrived first from Cambodia, where she and her granddaughters had fled forced labor camps and invading Vietnamese soldiers. A few years later, Felix and Hortensia Jimenez brought their family across the Mexican-U.S. border without documents, where Felix struggled to earn a living as a day laborer. At the same time, Dan Schmitz left the comforts of his white, middle class upbringing in the suburbs and moved into the apartment directly across from the Jimenez family.

Together, these three households encountered daily life in America's underclass. Parents raised their children amidst drug dealing, gang violence and prostitution right in their parking lot. Yet their worst problem was their Stanford-educated landlord, who raised rents even when El Nino rains flooded their units. Interviews, home video footage, and photographs from the tenants depict their daily lived experiences in the 1980s and 1990s.

Facing unsanitary housing conditions that led to the hospitalization of several children, 44 households of Oak Park banded together to sue and eventually won a landmark settlement, against their landlord. Despite the victory, this too brought about some surprising, unintended consequences.

The Oak Park Story concludes nearly ten years after winning the lawsuit. What have the children at Oak Park learned from their parents' organizing? How did the lawsuit impact the lives of the undocumented workers, the refugee families, and the other working poor living there? What ongoing social conditions do they continue to face?
The film will make its world premiere this weekend at the
San Francisco International Asian American Film Festival
, screening alongside Curtis Choy's
Manliatown Is In The Heart
as part of the CAAM @ 30 Documentary Showcase. For screening details, go the festival website
here
.