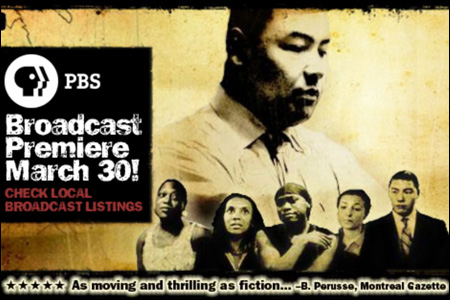 Christopher Wong's award-winning documentary
Whatever It Takes
, a film I've raved a lot about over the last year, will be making its national broadcast debut on Tuesday, March 30, 10:00pm on PBS'
Independent Lens
.
The film follows visionary and rookie principal Edward Tom, who leads a dedicated group of teachers, students and parents through struggles and triumphs during the first year of a South Bronx public high school. It's an amazing, inspiring film. You should see it.
While the official premiere is March 30, local PBS affiliates can actually choose to show the film at other dates/times. For the full broadcast schedule of when
Whatever It Takes
will be airing in your area, go
here
.
Also, on March 30, tune into NPR's
Tell Me More
, with host Michel Martin. Chris and Edward Tom will both be guests on the show, discussing the film and the current state of education reform. Also check out Principal Tom on CBS'
Up To The Minute
:
"Whatever It Takes": An Educator's Commitment To Improve The Lives Of His Students
.
Aside from the broadcast, the film is also becoming popular with high schools, colleges and the rest of the education community. If you are interested in setting up a screening of
Whatever It Takes
at your school or in your community, be sure to contact whateverittakesdoc@gmail.com.
Like I said, it's an amazing, provocative film. For more information, go to the
Whatever It Takes
website
here
. Also be sure to check out the
PBS site
, where you can read more about the behind-the-scenes story of the documentary.