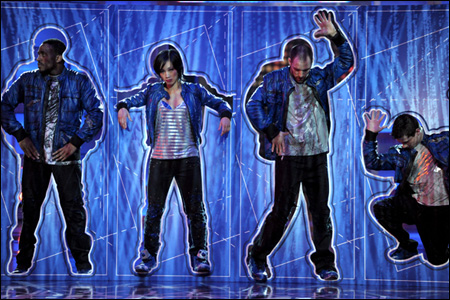 Whoa! Tonight's the season five finale of MTV's
America's Best Dance Crew
. I actually haven't been following quite as closely as before, so this season has completely flown by. But here's what you should know: tonight, we find out who will be crowned the season five champs --
Poreotix
, hailing from Orange County, or
Blueprint Cru
, the competition's first Canadian crew.
My money's on Poreotix to take it all, but I honestly would be totally cool if the win went to Blueprint, whose membership includes Thien-Linh "TL" Truong -- consistently portrayed as the brains, heart and soul of the group. They've fought hard to stay in this competition, and they definitely deserve to be in the finale.
Either way, once again, you will see Asians -- American or Canadian -- represented in the winners circle tonight. This fact was actually clinched a couple of weeks ago, when the dust settled and the top three remaining crews were Poreotix, Blueprint and third place finishers Hype 5-0. Hell yes, Asian domination on
ABDC
-- again!