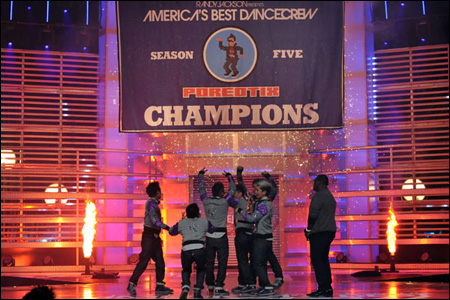 Well, they've done it. Poreotix is
America's Best Dance Crew
, beating out Blueprint Cru and taking home the season five trophy. These guys, from Westminster, California, always came off as a bunch of fun dorks, but you can't deny how entertaining they are to watch. Week after week, they were true showmen.
Big props to Thien-Linh "TL" Truong of Montreal's
Blueprint Cru
. Over the course of the season, she definitely emerged as the leader and heart of the group. You couldn't help but be drawn to her during Blueprint's performances. (It doesn't hurt that she's cute.) Yes, I think they clearly demonstrated that Canadians can dance.
You can watch video of last night's show
here
. What I'm really excited about now is next week's
ABDC
special on Thursday, April 15, in which all five seasons' champs -- JabbaWockeeZ, Super Cr3w, Quest Crew, We Are Heroes and Poreotix -- will be coming together to "Give Back." Not too many details yet, but it's confirmed that all five crews will be back -- that's all you need to know, right?