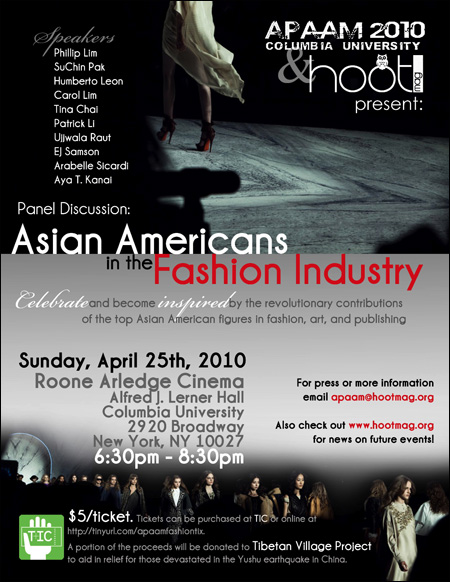 Check it out... very cool fashion-related event happening next week at Columbia University. In celebration of Asian Pacific American Awareness Month, they're presenting a panel discussion on the careers of Asian Americans in the fashion industry, featuring some of the top figures in the field today. It's happening this Sunday, April 25. Read on for details:
Panel Discussion: Asian Americans in the Fashion Industry

Sunday, April 25th, 2010
6:30pm - 8:30pm

Roone Arledge Cinema
Alfred Lerner Hall
2920 Broadway (115th and Broadway)
New York, NY 10027

Confirmed speakers include (but are not limited to):

SuChin Pak, MTV Correspodent (Moderator)
Humberto Leon, Creative Director and Co-Founder of Opening Ceremony
Carol Lim, CEO and Co-Founder of Opening Ceremony
Tina Chai, Stylist
Aya T. Kanai, Stylist
Phillip Lim, Fashion Designer
Patrick Li, Creative Director of Li, Inc
Ujjwala Raut, Supermodel
EJ Samson, Online Editor of Teen Vogue
Arabelle Sicardi, Fashion Blogger

Columbia University's Asian Pacific American Awareness Month and Columbia University's first and only fashion publication, Hoot Magazine (hootmag.org), are hosting a mega-panel discussion with top Asian American figures in the fashion industry in order to promote the education and discussion of fashion and careers in fashion. In accordance to this year's theme, "Deeper," we hope to dive deeper into exploring the different ways in which Asian Americans have made revolutionary contributions.

Attendees will be able to ask questions as part of the discussion.
Tickets are just $5 and a portion of the proceeds will be donated to the Tibetan Village Project to aid in relief efforts for those affected by the Yushu earthquake in China. To purchase tickets, go
here
. For more information, and to RSVP, visit the Facebook event page
here
.
UPDATE: Here's a brief write-up of the panel from Style.com:
Every Asian Parent's Nightmare? Nah, It's Just Fashion
.