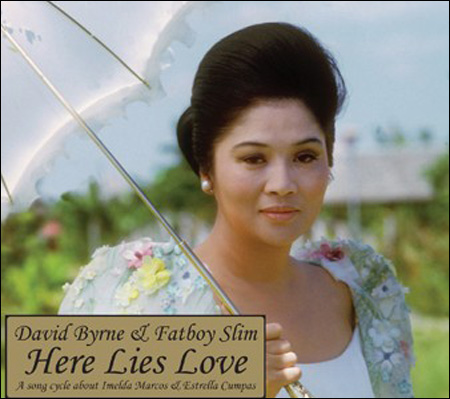 Heard about this from various folks out there, but it sounded to bizarre to believe... Talking Heads' David Byrne and DJ/producer Fatboy slim have collaborated on a concept album based on the life of... Imelda Marcos. Yeah, you read that right:
First Listen: David Byrne And Fatboy Slim, 'Here Lies Love.'
Here Lies Love
is a two-disc, 22-song album that tells the story of the Philippine First Lady and her rise to prominence, using disco-era music and quotes from the Imelda and husband Ferdinand Marcos. The record's narrative also tells the parallel tale of Estella Cumpas, the servant who raised Marcos.
The story is told using 22 prominent guest singers, including Sharon Jones, Annie Clark of St. Vincent, Shara Worden of My Brightest Diamond, Tori Amos, Nellie McKay, Kate Pierson of The B-52's, Martha Wainwright, Santigold and Cyndi Lauper. Steve Earle provides the voice of Ferdinand Marcos. With beats by Fatboy Slim!
It's fascinating... but mostly just weird, right down to the bizarre, soft-focus album cover. It seems like some kind of really elaborate joke, but Amazon's got it --
this is a real album
. I'm not really interested in hearing this, but I have to ask -- shouldn't an album dedicated to the Philippines most infamous figure feature some actual musicians of Filipino descent? (Thanks, LeRoid.)