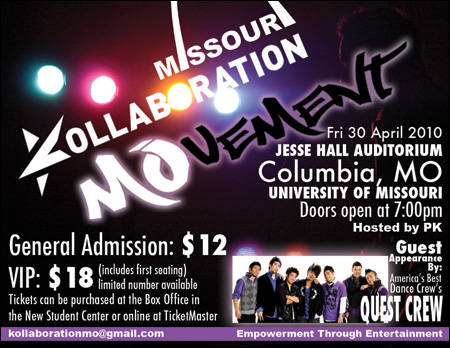 The
Kollaboration
movement continues its way across the United States, dropping this week with its first ever show in Missouri. Yes, the world-famous Asian American talent show is coming to the University of Missouri -- with special guests Quest Crew -- as part of its 13th annual Asian American Awareness Week. Here are the details:
KOLLABORATION MISSOURI MOvement 2010

Friday, April 30, 2010
7:00pm - 10:00pm
Jesse Hall Auditorium
Columbia, MO

*Doors open at 7pm
*Show begins at 7:30pm

Come join Mizzou's Asian American Association's largest program event of the year taking place during Asian American Awareness Week [April 26th-May 1st]. Kollaboration is a non profit organization that started in 2000 in California and is run by young professionals and students to showcase talents in non traditional occupations.

We are proud to announce and host the first ever Kollaboration MOvement show in the state of Missouri. 7 contestants, one night, one state, one grand prize. You don't want to miss this night with special guest winners from America's Best Dance Crew Season 3, QUEST CREW.

Tickets on sale:
$12 General Admission
$18 VIP seating & KollabMO Bracelet
Please purchase tickets online at ticketmaster.com or at the Mizzou Box Office.

Contestants:
- Alvin Lim (Beat Boxing)
- Steve Tzeng (Pianist)
- MU BollyHood (Dance)
- Mai Lee (Singer)
- Chris Gu (Spoken Word)
- Krystle Javier (Singer)
- Cindy Shaw (Singer/Guitarist)
Who would have thought Kollaboration would make its way to Missouri, of all places? But that's pretty damn cool. Having met the cool kids at Mizzou, I know this is going to be an awesome show. For more information about the show, go to the Kollaboration Missouri Facebook group
here
. And watch the promo video
here
.