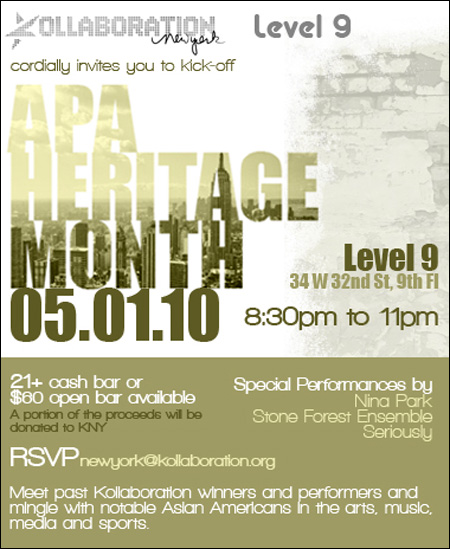 New York! It's time to get hyped about Kollaboration. You're invited to an APA Heritage Month kick-off celebration featuring special performances by Nina Park, Stone Forest Ensemble and Seriously. It's happening Saturday, May 1 at Level 9. For more information, see the Facebook event page
here
.
Kollaboration New York returns for its fifth year on June 26 at the Highline Ballroom. They recently announced their 2010 performer lineup:
- Paperdoll (Band)
- Alfa (Guitar)
- Brian Hong (Guitar)
- Cate Song (Piano)
- Eugenia Leigh (Spoken Word)
- Jen Kwok (Ukulele/Comedy)
- Meghna Prasad (Guitar)
- Sheng Wang (Comedy)
- Part-Time Models (Dance)
Presale tickets are currently on sale
here
for a limited time at a $10 discount. Last year's show sold out, so mark your calendars, call your friends and make your plans. You can't stop the movement! To learn more about Kollaboration, go to the website
here
.