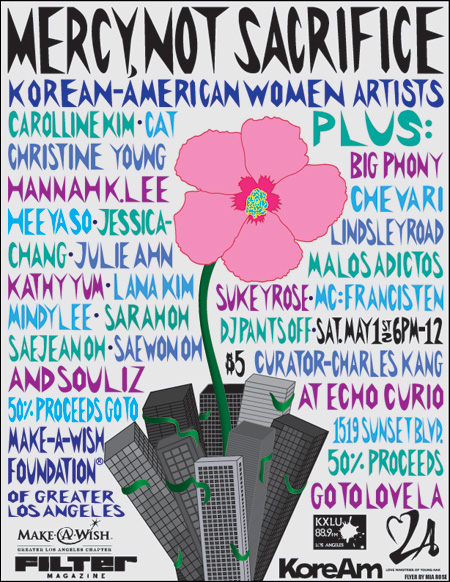 If you're in Los Angeles this weekend (and not headed to the film festival), do check out
Mercy, Not Sacrifice
, a night of art and music for charity featuring the work 13 artists, with musical accompaniment by the likes of Big Phony, Malos Adictos, Sukey Rose and DJ Pants Off throughout the night. Here are some more details:
Mercy, Not Sacrifice
Korean American Women Artists

Details:
Date: May 1, 2010
Time: 6pm-12am
Location: Echo Curio
1519 W Sunset Blvd
Los Angeles, California 90026

Art by:
Carolline Kim
Christine Young
Cat
Christine Young
Hannah K. Lee
Hee Ya So
Jessica Chang
Julie Ahn
Kathy Yum
Lana Kim
Mindy Lee
Sarah Oh
Saejean Oh
Saewon Oh
SOULIZ
Performances by:
Big Phony
Chevari
Linsley Road
Malos Adictos
Sukey Rose
Francis Ten
DJ Pants Off

Curated by:
Charles Kang
Proceeds from the show will go to the Make-A-Wish Foundation and Love LA. For more information about the event, go to this
KoreAm
blog posting, where I first heard about the event:
May 1: "Mercy, Not Sacrifice"