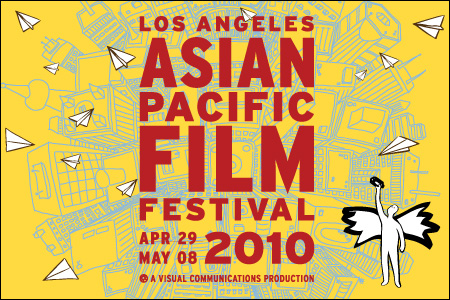 Just because it's Closing Night doesn't mean the
2010 Los Angeles Asian Pacific Film Festival
is over. Not quite just yet. They've actually got two more days of the festival, screening some late additions and award winners, as well as a panel with your favorite social media stars. Here's an overview of the schedule:
CLOSING WEEKEND @ DOWNTOWN INDEPENDENT

Friday, May 7

4:30pm LAST TRAIN HOME

7:00pm MAO'S LAST DANCER (Newly Added)

9:30pm THE TAQWACORES

Saturday, May 8

1:30pm KTOWN COWBOYS w/ Televisnu & Bicycle

4:30pm Panel: The New Buzz - Rise of the New Asian American Star

7:00pm THE ACTRESSES
This is your second chance to check out some of the high-profile, buzz-worthy films you might have missed the first time around. Here are some detailed descriptions of this weekend's screenings and events: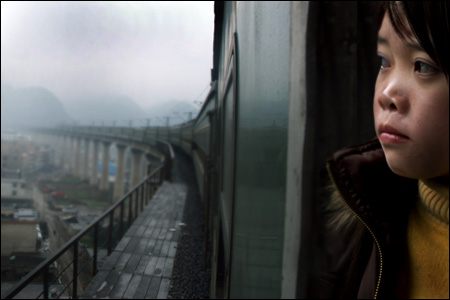 Last Train Home
(Canada, 2009) Dir.: Lixin Fan
35mm, 87 min., color, documentary, in Mandarin w/ E.S.
Imagine that there was no car to get around, and you were just one of the millions of people fighting over the last few train tickets home. Every spring, more than 130 million migrant workers in China try to go home for New Years and to see their loved ones for a couple of days. Opening with the images of the masses not only waiting for a train, but for actual tickets left over to be sold, LAST TRAIN HOME follows the Zhangs' tumultuous journey, the expectations and desires of the individual family members, and the silent, but resilient battle to achieve a better life.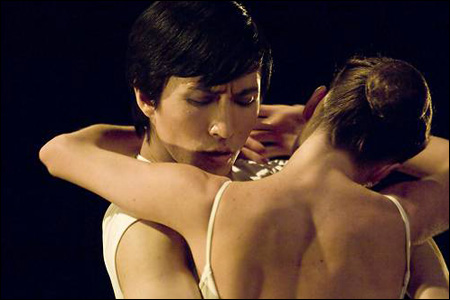 Mao's Last Dancer
(Australia, 2009) Dir.: Bruce Beresford
35 mm, 117 min., color, narrative, in English & Mandarin w/ E.S.
Brought to the screen by Bruce Beresford, director of such celebrated works as DRIVING MISS DAISY and BLACK ROBE, the inspiring true story of Li Cunxin speaks to personal and cultural freedom, passion and determination.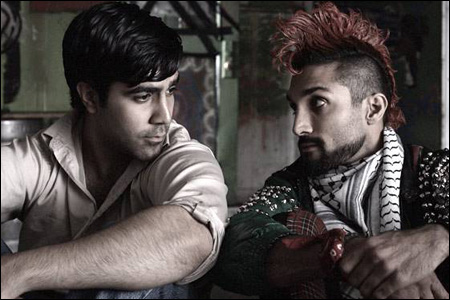 The Taqwacores
(United States, 2010) Dir.: Eyad Zahra; Scr.: Michael Muhammad Knight, Eyad Zahra
35mm, 83 min., color, narrative
THE TAQWACORES is a resounding feature-length debut for director Eyad Zahra, a Cleveland, OH native who studied cinema production at Florida State University. The film casts an observant eye on young people whose ideas of faith and ideology are challenged, reimagined, and repurposed -- a brash and confident rejoinder to the ethnic and religious xenophobia prevalent in this country post-911. In a world defined by profound disenfranchisement, the film posits a world united by punk and nonconformity, and even spotlights music from the movement, courtesy of L.A.-based Taqwacore outfit the Kominas.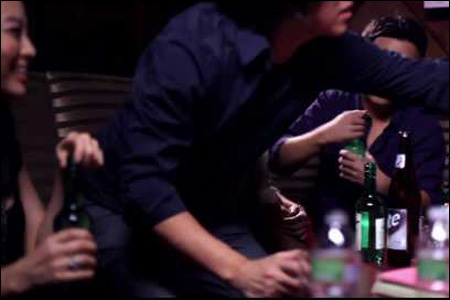 Ktown Cowboys
(United States, 2010) Dir.: Daniel Park
Video, 55 min., color, narrative, in English and Korean w/ E.S.
Johnny (Lanny Joon), a young Korean American from Richmond, Virginia, finds himself transplanted to Los Angeles' Koreatown. Having been recently dumped by his girlfriend and with no immediate job prospects, Johnny is taken under the wing of his cousin Jason and a motley crew of partyhoppers who are dedicated to having a good time. Written and co-starring comedian Danny Cho, KTOWN COWBOYS is DINER meets THE HANGOVER in this insider's look into L.A.'s Koreatown, a community known best to those who live, love and sometimes fight there.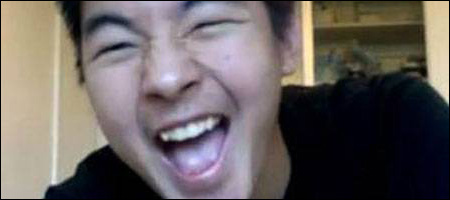 The New Buzz: The Rise of the New Asian American Star
These young Asian American artists have all been faced with challenges and have chosen the path less traveled. In this candid panel, these groundbreaking artists will reveal their secrets of success and how they overcame the obstacles of stereotypes and cultural expectations within the industry. Join us as Wong Fu Productions, KevJumba, Justin Chon, and others share their insight of how taking the first step of pursuing your dreams will be the start of the rest of your life.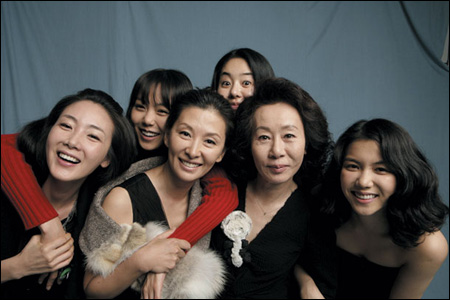 The Actresses
(South Korea, 2009) Dir.: E. J-Yong; Scr.: Youn Yuh-Jung, Lee Mi-Sook, Choi Ji-Woo, Ko Hyun-Jung, Kim Min-Hee, Kim Ok-Vin
35mm, 105 min., color, narrative, in Korean w/ E.S.
Shot as a documentary, and largely improvised, this comedy send-up is an inside look at the dramatics of six of the most famous actresses in South Korean film who were gathered together by Vogue Korea for a photo shoot on Christmas Eve 2008. This should be a treat for fans who follow K-dramas and movies.
And finally, a big congratulations goes to the the festival's award recipients, who were announced on Closing Night. These films and personalities represent some of the best in what's happening in Asian and Asian American film right now. Here's the list of winners:
2010 LOS ANGELES ASIAN PACIFIC FILM FESTIVAL ANNOUNCES WINNERS

Documentary Feature:

Grand Jury Award, Documentary
LAST TRAIN HOME
Directed by LIXIN FAN

Special Jury Award, Documentary: Best Director
DEANN BORSHAY LIEM
IN THE MATTER OF CHA JUNG HEE

Special Jury Award, Documentary: Cinematography
LIXIN FAN
LAST TRAIN HOME

Special Jury Award, Documentary: Best Editing
VIVIEN HILLGROVE
IN THE MATTER OF CHA JUNG HEE

Call to Action Award
A VILLAGE CALLED VERSAILLES
Directed by S. LEO CHIANG

Narrative Feature:

Grand Jury Award, Narrative
THE TAQWACORES
Directed by EYAD ZAHRA

Special Jury Award, Narrative: Best Director
EYAD ZAHRA
THE TAQWACORES

Special Jury Award, Narrative: Best Screenplay
RAUL JOCSON
SF STORIES

Special Jury Award, Narrative: Best Ensemble Acting
NAV MANN, BOBBY NADERI, DOMINIC RAINS, NOUREEN DEWULF
THE TAQWACORES

Special Jury Award, Narrative: Best First Feature
KTOWN COWBOYS
Directed by DANIEL PARK


Short Film:

Festival Golden Reel Award
BICYCLE (Jitensha)
Directed by DEAN YAMADA

Linda Mabalot New Directors/New Visions Award
TELEVISNU
Directed by PRITHI GOWDA

AUDIENCE AWARDS:

NARRATIVE FILM
THE TAQWACORES
EYAD ZAHRA

DOCUMENTARY FILM
A VILLAGE CALLED VERSAILLES
S. LEO CHIANG
Again, congratulations to all the winners. Be sure to check out all these works if you get the chance. For more information about the Los Angeles Asian Pacific Film Festival, go to the LAAPFF website
here
. And to all my friends and colleagues who put it all together, thank you for another great year!