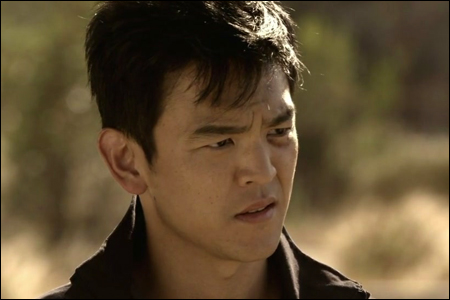 Aw man, another TV show bites the dust. Last week, word broke that ABC will not be bringing back
FlashForward
for a second season:
Chuck Lives! But What About Life Unexpected, One Tree Hill and FlashForward?
The sci-fi drama, which told the story of a worldwide catastrophe in which everyone blacks out and sees their future for 2 minutes and 17 seconds, is canceled. This news is a bit of a bummer, because of one guy:
John Cho
, who starred FBI agent Demetri Noh -- easily the best part of the show.
Okay, so the show wasn't perfect. It had a great high-concept premise, but didn't necessarily deliver the goods every week, often diving knee-deep into some of the most ridiculous plot twists. It was good fun, but I often doubted if it had enough gas in the story tank to fuel multiple seasons.
But John Cho as Demetri Noh? Awesome. Every week, we got to see John look cool, hold a gun, and just generally be a badass. Not only did he have one of the most interesting storylines (Demetri didn't see anything during this flash forward -- he was apparently dead), he was in a biracial romance with his beautiful fiancee, played by Gabrielle Union.
It wasn't my favorite TV show, but it definitely had me tuning in every week, eager to see where it all was going. I guess there's no reason to wonder anymore. Now the question remains, will
FlashForward
leave fans with a satisfactory finale?
I have no doubt we'll be seeing John Cho in more cool stuff soon enough. But now, with the cancellation of both
Heroes
and
FlashForward
, and the end of
Lost
, that's
a lot
of Asian faces suddenly gone from prime time television. That's a big bummer.