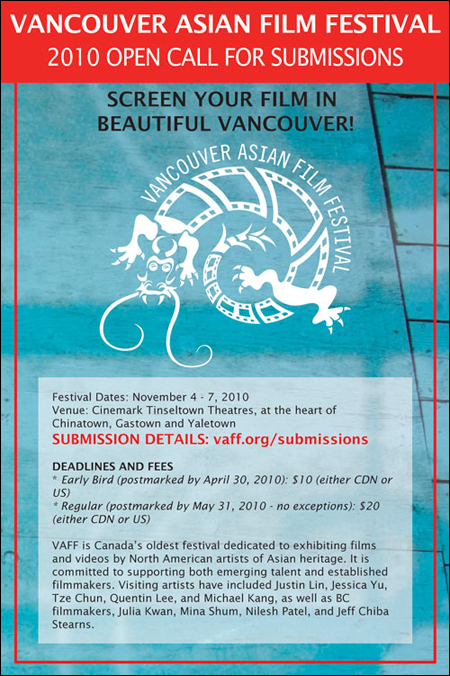 Hey filmmakers! You ought to screen your film in beautiful Vancouver. Specifically, at the
Vancouver Asian Film Festival
. VAFF, Canada's oldest festival dedicated to exhibition films and videos by North American artists of Asian heritage, is now accepting submissions for its 14th annual festival. Here's all the basic info:
VANCOUVER ASIAN FILM FESTIVAL
2010 Open Call for Submissions

VAFF invites submissions for its 14th annual festival, November 4-7, 2010. Open Call begins March 15 and early bird deadline is April 30th; final closing deadline is May 31st (postmarked - no exceptions).

All films in the Open Call must include a North American Asian in a key creative role (writer, director, producer). Earlybird entry fee: $10 (CDN or US); Regular entry fee: $20 (CDN or US). Entry fee is non-refundable.

Genres for consideration include narrative, documentary, animation, and experimental. Exhibition formats accepted are 35mm, Beta SP (NTSC), HD and DigiBeta (NTSC) – and preview screeners may be submitted as DVDs. No materials or screeners will be returned.

Awards include a juried award for Best Canadian Short. Programming includes Q & A sessions, panel discussions, a Filmmakers' Luncheon, and special gala events.
The early bird deadline has passed, but the final closing deadline is May 31. Get your stuff together and submit. The 2010 Vancouver Asian Film Festival will take place November 4-7 at Cinemark Tinseltown. For more festival information and submission guidelines, visit the VAFF website
here
.