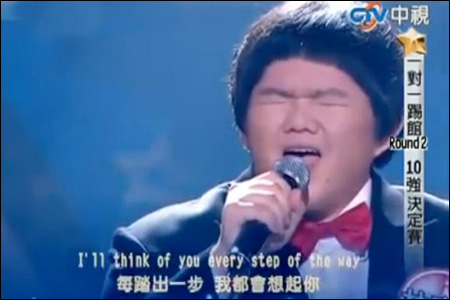 Piling on more comparisons to Susan Boyle, internet singing sensation Lin Yu-chun, the weird-looking bowl-cut Chinese guy who can sing
frighteningly like Whitney Houston
, has reportedly signed a record deal with Sony Music:
Whitney Houston Sound-alike Inks Major Label Deal
.
Lin became an overnight star last month after performing on the Taiwanese TV talent show
Avenue to Stardom
and flooring the world with his dead-on rendition of "I Will Always Love You." Remember this:
You have to admit, the guy is doing a better Whitney than Whitney herself (granted, lately, Ms. Houston has seen better days)...
He told the AP recently that the show gave him "more confidence" to pursue a music career, in spite of his unconventional appearance. "You don't have to be a good-looking man or woman to succeed," he said. "Just be yourself and try your best."

Lin has said he suffered from a lack of self-confidence because of his weight. "Being fat draws a lot of mockery in our society," he said.

To cope with the pain caused by jokes from peers, he locked himself in his room and sang along to songs by Celine Dion and Mariah Carey. But it was Houston's signature track, from the soundtrack to the 1992 film 'The Bodyguard,' that gave him the confidence to keep trekking on.

"I played it again and again even though my parents couldn't stand it anymore and asked me to stop," Lin said.
Say what you will about this guy's unsettling appearance. He has stayed true to himself and his voice. Or perhaps made a deal with the Devil to steal Whitney Houston's voice. Whatever the case, it worked. The guy still looks weird, but now he's a star. But will his version of "I Will Always Love You" make it on the album? It has to. It has to!