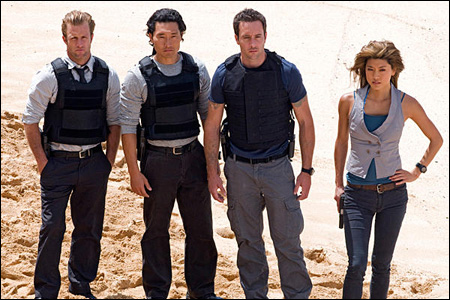 Awwww yeah.
Lost
is ending, but you will not have to miss Daniel Dae Kim for long. As you know, he is starring in CBS' remake of the old cop show, alongside Grace Park and Alex O'Loughlin. Here's a preview:
We've heard bits and pieces about it here and there, and while I was cautious when I first heard about it, so far it
looks like
it's going to be pretty kickass. Suddenly, it's become the show I'm most looking forward to in the fall.
Here's the hard rockin'
opening credit
sequence for the show. If you could count on anything about this remake, you know they would absolutely have to include the same iconic theme music.
I don't think there was much doubt that the pilot would get picked up, and indeed, the network presented the show this week at the upfronts:
Upfronts: CBS offers a behind-the-scenes look at 'Hawaii Five-O.'