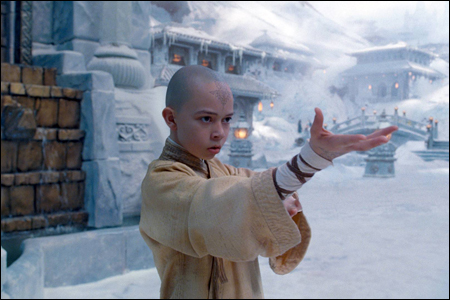 Another
Los Angeles Times
article looking at Hollywood's nasty habit of "whitewashing" its characters, looking specifically at two big upcoming movies,
Prince of Persia: The Sands of Time
and
The Last Airbender
:
Hollywood whitewash? 'Airbender' and 'Prince of Persia' anger fans with ethnic casting
.
For a movie called
Prince of Persia
, which opens next week, it doesn't feature a whole lot of actual Persians. In fact, none of its principle cast members are of Iranian, Middle Eastern of Muslim descent. But hooray for Jake Gyllenhaal and Gemma Arterton, two white actors who look quite pretty on the poster.
The article also covers the year-and-a-half-long campaign against the whitewashing of
The Last Airbender
, talking with some of the players behind the proposed boycott of the movie, including Racebending.com and the Media Action Network for Asian Americans:
And with just weeks until the movie's July 2 release - after a year-and-a-half-long letter-writing campaign to the film's producers and a correspondence with Paramount President Adam Goodman to underscore the importance of casting Asian actors in designated Asian roles - members of the Media Action Network for Asian Americans and an organization called www.racebending.com are urging fans to boycott "Airbender."

The movie's detractors have spoken against the film at six college campuses, including MIT.,New York University and UCLA, also setting up booths at events such as San Francisco's WonderCon pop culture expo to publicize their discontent. At last count, the group's Facebook group had 7,125 supporters and attracted petitioners against the movie's casting in 55 countries. The stated goal: to prevent "Airbender" from blooming into a lucrative three-part franchise via negative word of mouth.

"It's unfortunate that it's come to this," said Racebending.com spokesman Michael Le. "They've constructed a film that is contrary not only to what fans expected to see but is also contrary to what America expects to see in a film released in 2010 featuring Asian culture and Asian and Native American characters as heroes.

"We want to raise awareness of the discriminatory practices of Hollywood," Le continued. "We want to tell people this is important. It really matters."

Guy Aoki, head and co-founder of MANAA - a crusading organization that has skirmished with TV networks and movie studios for a decade for more positive representations of Asian Americans - put a finer point on the boycotters' concerns. "If 'The Last Airbender' does really well, it sends the message in Hollywood that discriminating against Asian Americans works," he said.
Of course, directors M. Night Shyamalan and Mike Newell wouldn't comment for the article. Neither would any Disney or Paramount executives, or producers Jerry Bruckheimer, Kathleen Kennedy and Frank Marshall. Paramount did provide this statement about
Airbender's
casting choice:
"The movie has 23 credited speaking roles - more than half of which feature Asian and Pan Asian actors of Korean, Japanese and Indian decent," it reads. "The filmmaker's interpretation reflects the myriad qualities that have made this series a global phenomenon. We believe fans of the original and new audiences alike will respond positively once they see it."
But when it comes down to it, there's no mistake who the primary heroes are supposed to be, and they're not played by Asian actors. I've said it before and I'll say it again: you can have a movie set in any time period, anywhere in the world -- even an Asian-inspired fantasy realm -- and Hollywood will still find some ridiculous way for the movie to star a white guy.