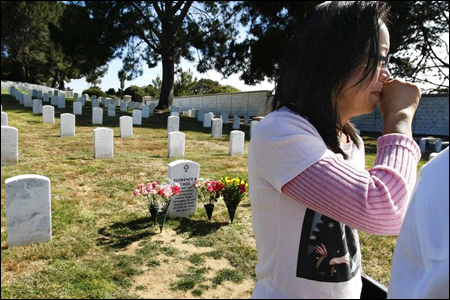 In observance of Memorial Day, the
Los Angeles Times
has a sad story on Navy Lt. Florence Choe, who was killed in Afghanistan
last year
. She was in Afghanistan to help establish a hospital for Afghan military and civilians:
Choe, 35, a hospital administrative specialist, had gone to Afghanistan to help the Afghans establish a hospital for their military and civilians. She was devoted to her husband and young daughter in San Diego, but the call to duty was strong.

She and two other U.S. military personnel were jogging inside the perimeter of the base near Mazar-i-Sharif on March 27, 2009, when an insurgent posing as an Afghan soldier shot all three at point-blank range.

As Choe fell to the ground, the gunman stood over her and fired again. Choe and another Navy officer were killed, the third runner was seriously wounded but survived and the insurgent killed himself as armed U.S. guards came running.

"She went there to help the Afghan people," said Bacong, her voice trembling. "She had asked us to send clothes and chocolate and magazines for them, and we did. And then this happens."
She was supposed to be safe, constantly assuring her family that she was a noncombatant, working inside the security of a base. Choe's family, including her husband and 4-year-old daughter, have been trying to make sense of her death ever since. She is buried at Ft. Rosecrans National Cemetery in San Diego.