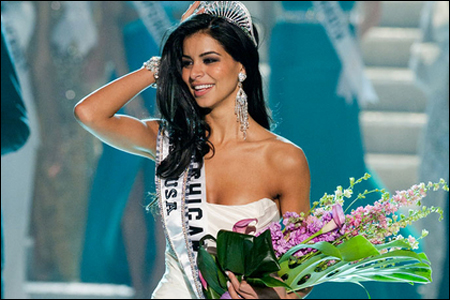 Suddenly, I have a reason to care about a beauty pageant. Rima Fakih, a 24-year-old Arab American from Dearborn, Michicgan, beat out 50 other women to take the 2010 Miss USA title Sunday night:
Arab-American from Michigan crowned 2010 Miss USA
. All things considered, I think it's pretty noteworthy:
Rima Fakih of Dearborn, Mich., won the pageant at the Planet Hollywood Resort & Casino on the Las Vegas Strip after strutting confidently in an orange and gold bikini, wearing a strapless white gown that resembled a wedding dress and saying health insurance should cover birth control pills.

When asked how she felt about winning the crown, she said, "Ask me after I've had a pizza."

Fakih, a Lebanese immigrant, told pageant organizers her family celebrates both Muslim and Christian faiths. She moved to the United States as a baby and was raised in New York, where she attended a Catholic school. Her family moved to Michigan in 2003.

Pageant officials said historical pageant records were not detailed enough to show whether Fakih was the first Arab American, Muslim or immigrant to win the Miss USA title. The pageant started in 1952 as a local bathing suit competition in Long Beach, Calif.
Nobody can confirm if she's the first Muslim or Arab American contestant to win the crown, but whatever the case, it's certainly the first time in recent memory. More than anything, I think this Facebook comment, from Taz of Sepia Mutiny, sums it up:
Her win isn't about being Muslim, or being Arab American - her win is about the little girl version of me that thought to be pretty in this country, a girl couldn't be
Muslim/brown/brunette/2nd gen. Her win just broke multiple glass ceilings that little girls everywhere had internalized. And - homegirl is progressive on birth control!
Okay, so it's hard to take anything with a swimsuit competition very seriously. Even harder not to laugh at anything having to do with Donald Trump. But I'd like to think in that moment, when Rima Fakih won, she changed a few minds about who could wear that crown. More here:
Dearborn's Miss Michigan wins Miss USA pageant
.