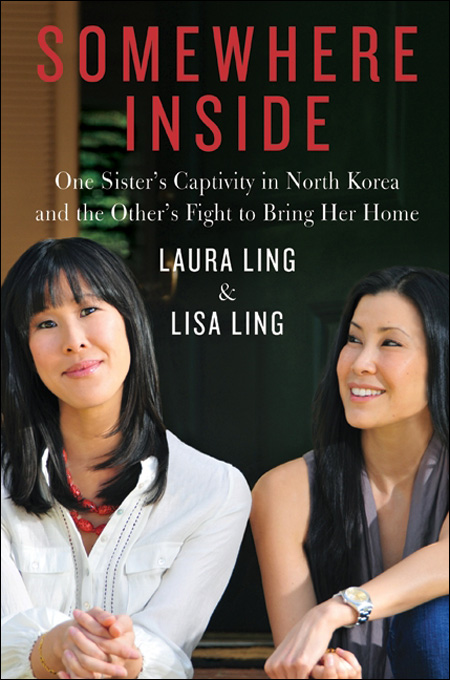 When I posted about Laura Ling and Lisa Ling
appearing on Oprah
this week, it didn't occur to me that the show just happened to coincide with the release of their new book,
Somewhere Inside: One Sister's Captivity in North Korea and the Other's Fight to Bring Her Home
.
As you know, Laura Ling and Euna Lee were on the China/North Korea border working on a story about North Korean defectors when they were arrested by North Korean soldiers and detained for 140 days. The book is Laura's side of the story, as well as Lisa's fight to get her back:
On March 17, 2009, Laura Ling and her colleague Euna Lee were working on a documentary about North Korean defectors who were fleeing the desperate conditions in their homeland. While filming on the Chinese–North Korean border, they were chased down by North Korean soldiers who violently apprehended them. Laura and Euna were charged with trespassing and "hostile acts," and imprisoned by Kim Jong Il's notoriously secretive Communist state. Kept totally apart, they endured months of interrogations and eventually a trial before North Korea's highest court. They were the first Americans ever to be sentenced to twelve years of hard labor in a prison camp in North Korea.

When news of the arrest reached Laura's sister, journalist Lisa Ling, she immediately began a campaign to get her sister released, one that led her from the State Department to the higher echelons of the media world and eventually to the White House.

Somewhere Inside reveals for the first time Laura's gripping account of what really happened on the river, her treatment at the hands of North Korean guards, and the deprivations and rounds of harrowing interrogations she endured. She speaks movingly about the emotional toll inflicted on her by her incarceration, including the measures she took to protect her sources and her fears that she might never see her family again.

Lisa writes about her unrelenting efforts to secure Laura and Euna's release. Offering insights into the vast media campaign spearheaded on the women's behalf, Lisa also takes us deep into the drama involving people at the highest levels of government, including Secretary of State Hillary Clinton, former Vice President Al Gore, Senator John Kerry, and Governor Bill Richardson - intense discussions that entailed strategically balancing the agendas and good intentions of the various players. She also describes her role in the back-and-forth between North Korea's demands and the dramatic rescue by former President Bill Clinton.

Though they were thousands of miles apart while Laura was in captivity, the Ling sisters' relationship became a way for the reclusive North Korean government to send messages to the United States government, which helped lead to Laura and Euna's eventual release.

Told in the sisters' alternating voices, Somewhere Inside is a timely, inspiring, and page-turning tale of survival set against the canvas of international politics that goes beyond the headlines to reveal the impact on lives engulfed by forces beyond their control. But it is also a window into the unique bond these two sisters have always shared, a bond that sustained them throughout the most horrifying ordeal of their lives.
Laura Ling was working on a documentary for Current TV's
Vanguard
when she was apprehend, and suddenly, she and Euna Lee became the story. This week, things sort of came full circle, when they turned the cameras on her for the
Vanguard
special report
Captive in North Korea
.
Also check out this
People
magazine article on Laura:
Laura Ling Celebrating Freedom (and Her Sister) with 'Miracle' Baby
. She's obviously in a much happier and safer place, with a baby daughter on the way -- who she'll name after her sister, Lisa.
I'm definitely going to pick up their book. Euna Lee is apparently working on a book too, from her perspective of the ordeal. For more information about
Somewhere Inside
, go to the Harper Collins website
here
. And order the book from Amazon
here
.