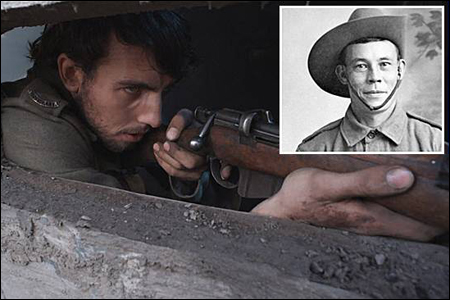 More movie whitewashing... this time, from the land down under. In Australia, controversy as erupted over a new miniseries about Chinese Australian war hero Billy Sing, the deadliest sniper who fought at Gallipoli, who is -- surprise, surprise -- played by a white actor:
Director slammed for 'white-out' of legendary Gallipoli sniper Billy Sing
.
Get this. In
The Legend of Billy Sing
, the title role is played by director Geoff Davis' son Josh, while Sing's Chinese father is played by veteran actor Tony Bonner. Both of these actors are white guys. So much for the legend. Here's some background on Billy Sing, who many consider a Chinese Australian hero:
Sing, born in 1886 at Clermont, Queensland, to a Shanghainese father and an English mother, moved as a young man to the canefields of Proserpine, where he became a keen cricketer, kangaroo hunter and a crack member of the local rifle club.

He enlisted as a trooper in the 5th Light Horse Regiment, and became celebrated as "the Assassin" at Gallipoli, where he had 201 confirmed kills, winning the Distinguished Conduct Medal, second only to the Victoria Cross. His sniping "spotter", Ion Idriess, later a successful writer, described how the Turks sent their champion sniper "Abdul the Terrible" to hunt him down, but Sing shot Abdul first. Former Nationals senator Bill O'Chee, who became an army reservist when he left parliament in 1999 and was born to a Chinese father and an Irish-Australian mother, was "deeply disappointed" by the production.

"We'll now have people growing up thinking Billy Sing was white. But we are jealous of his memory," he said. Federal Queensland Liberal MP Don Cameron, who found the site of the South Brisbane boarding house where Sing died in 1943 with five shillings on his bedside, said it was "tragically wrong" to have the sniper played by a white.

"It is plain wrong. I congratulate the filmmakers for doing the story, but condemn them for being so careless with the truth."
The director claims the problem in casting Sing as a Chinese Australian arose when he couldn't find a 60-year-old Chinese actor to play his father. With a limited budget -- he actually says,
"we could not have afforded the make-up"
-- he decided to Caucasian-ify the character. And of course, the best possible choice to play Billy Sing could only be the director's son. History, swept under the rug.