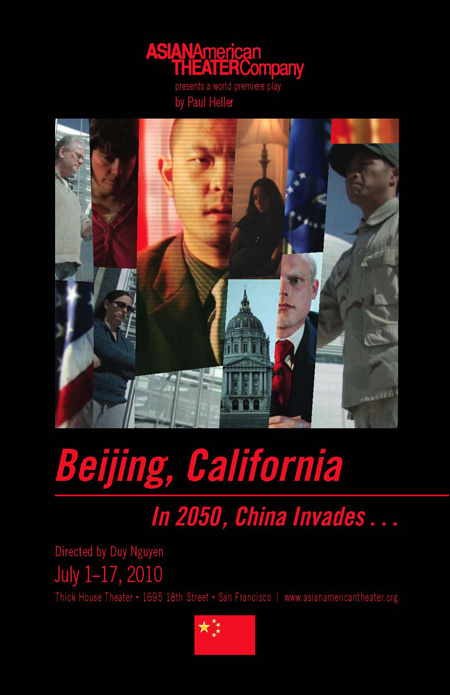 Bay Area theater fans, take a look at the world premiere of Asian American Theater Company's latest production,
Beijing, California
. The play runs July 1-17 at the Thick House Theater in San Francisco. The play is set in the year 2050, when China invades America... and Americans confront life as a conquered Third World nation. Here's the video trailer:
Holy moly, is this some kind of crazy
Red Dawn
-like scenario? Sort of, but I imagine the goal is to be a little more cerebral, and a lot less red-white-and-blue chest-thumping. Here's the full description:
Beijing, California is an unflinching study of one nation's invasion by another–but this time, the victim is not Iraq or Afghanistan; rather, it is America, and the invader is China. As playwright Paul Heller noted in his January 29, 2009 interview with the San Francisco Chronicle's 96 Hours, "I hope the audience members will look at their own values and their perceptions of other countries–and how those might change if we were the ones being invaded. What I think we'll see is that Americans would act like everybody else in the world if they became citizens of a Third World country."

The play's futurist scenario takes place in 2050, when Katrina-like disasters and a series of financial meltdowns lead to America's collapse. The audience follows a series of characters and stories in the Bay Area over a span of 50 years, and discovers what happens to American values in the aftermath of foreign occupation.

Beijing, California contains three interwoven plots, each exploring a different aspect of the Chinese invasion. In one storyline, we follow the presidents of the U.S. and China as their deep, long-term friendship is shattered by China's ascendance and America's deterioration. In another storyline, we examine a family amidst America's economic wreckage. Living on a Third World income, they are forced into a shocking business decision. The final storyline focuses on a Chinese American translator who must navigate a San Francisco segregated into Baghdad-like militarized zones, as she attempts to expose a terrible crime.
Sounds pretty provocative, to say the least. Perhaps you
can
have a narrative scenario like this without being completely
racist
. I'm interested in seeing what this looks like and how it all plays out.
Beijing, California
is written by Paul Heller and directed by Duy Nguyen. The play stars Stephen Hu, Lisa Kang, Tom Lazur, Wayne Lee, JanLee Marshall, Garth Petal, Erika Salazar, and Jennifer Vo Le. For more information, go to the Asian American Theater Company website
here
.