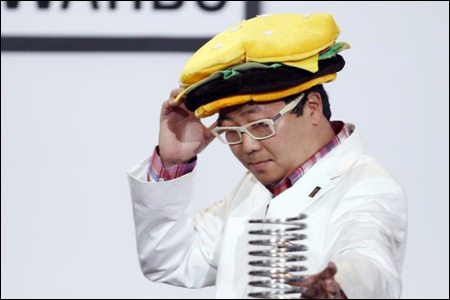 That's my homeboy
Ben Huh
, CEO of the Cheezburger Network, accepting the award for people's choice Best Blog,
FAIL Blog
, yesterday at the 14th Annual Webby Awards. Think that hat is pimp? Check out the outfit his wife Emily was rocking on the red carpet:
Caption this: Cheezburgers on the red carpet
.
Ben and the Cheezburger Network, home to websites like FAIL Blog and I Can Has Cheezburger, is just a crazy weird internet success stories. Made even weirder for me because I know this guy from college. A fortune in silly cat photos! Who knew? More here:
Once a Site of Funny Cat Pictures, Now a Web Empire
.